Quilters best friend is always a sewing machine, when you start working on your first quilt, you might get in love with this beautiful art of making quilts.
The times when quilters had to sew everything by hand are far behind, today more and more quilters use a sewing machine for many purposes, sew together all those tiny pieces of fabric to make the top of that new quilt, do the applique or even do the machine quilting at home.
Getting a sewing machine that you will be using almost everyday is something you need to spend sometime to find out which one is the best to buy for your quilting projects.
From the small sewing – quilting machine, light and trustful to the biggest and stronger sewing machines that you can get to work on your quilts at home, but must of all you need to get a sewing machine which you find yourself happy to work on it and it must be easy to work with.
Best Sewing Machines 2020
Brother CS6000i Feature-Rich Sewing Machine With 60 Built-In Stitches
SINGER 4411 Heavy Duty Sewing Machine
Brother Designio Series DZ2750
Best Sewing Machines for Quilters – beginners.
---
This is my current sewing machine, I bought it 7 years ago I have sewn a few quilts from the smallest mini quilts to a huge King Size quilt, it works perfect every time I use it.
Easy to use, easy to keep, easy to storage, easy to clean and must of all when something goes wrong easy to fix by myself.
I use my brother XL – 3750 mostly to sew together all those little pieces of fabric to make the top of a quilt, I must say I'm a hand quilting quilter, but I have tried out the quilting feature on this sewing machine a few times and I must say I'm happy how it works and how easy is to do the machine quilting on it.
My quilting work with this sewing machine is not perfect but I can't blame the machine as I'm sure with more practice with it the quilting will be better on my quilts.
Will I recomend it?
100 % I will, if you're a beginner quilter and/or you're looking to get a sewing machine with quilting feature, easy to work on it and easy to keep, this is your machine to get.
I know this is a small sewing machine, but it works great, I even could say it works like the first day after 7 years of sewing with it almost every day!!
If you're an advanced quilter and you want mostly to work on a quilting machine that is more professional, I would recommend to get a stronger machine that will help you to work on your quilts.
Today, as I have been researching for a bigger sewing machine I would like to share with you some of my picks:
---
This is a great sewing machine for beginners and veterans, it's a compact and light table machine.
It comes with 60 different stitches, it's perfect for a wide range of sewing and quilting projects, for its price it offers more features than other beginners machines, including an LCD screen, 60 stitches and nine presser feet and a quilting feet.
---
If you're love to sew and you know already how to work on a home sewing machine, this Singer might be perfect for you, this is a little speedier than other sewing machines, it can crack out up to 1,100 stitches per minute thanks to its strong motor.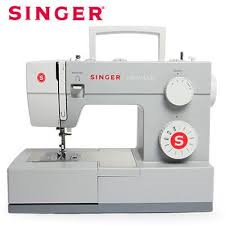 It has 11 build-in stitches and 6 basic stitches, it has an automatic needle threader so you can thread this machine in no time and focus on your sewing project. The needle can be changed to any of the three available positions to add a zipper or any decorative touch on your project.
The heavy duty metal frame makes it a high-quality sewing machine, it has an adjustable presser foot control that will help you to sew lightweight to heavy fabrics with ease.
Con: No quilting feature in this sewing machine.
---
Computerized and quilting machine.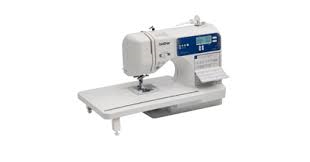 This machine has 185 build-in stitches, plus 55 alphanumeric stitches. it comes with a full set of designer accessories, including an extra wide table that makes your total work space 33 % larger. This feature is ideal to work with your quilts while you work on the machine quilting.
Easy threading on both top threading and bobbin. This will give you consistent high quality stitch making.
Great design, quiet, user friendly, lightweight,  you can sew with it on an almost daily basis and it will work perfect every time, customer reviews say this is a well built machine and does a great job.
---
If you're looking for a more advanced sewing machine that will do great with your quilting projects you may want to take a look at this sewing machine.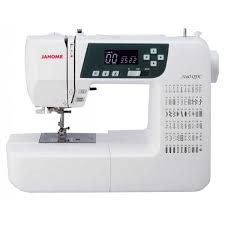 It's a strong machine that weights 12 pounds, it comes with 60 built-in stitches, adjustable stitch width up to 7 mm, length up to 5mm, one hand needle threader, peak sewing speeds of 820 stitches per minute, automatic lock-off button, automatic thread cutting, memory of needle position (up and down), stop and start buttons, vertical loading bobbin.
If you're a quilting you might think this is a machine designed especially for you, it's a top model but it's an affordable machine, it only weights 12 pounds, stylish and sturdy, the Janome 3160QDC was build to address the best of quilting needs.
This machine has a standard neck but you can work to quilt big size quilts as queen and king size quilts with no problem.
Closing.
When you love to make quilts, a good sewing machine will be a must, whether you're beginner or advanced quilter, you will be working long hours on your sewing machine every time you work on a new quilt.
Choosing a good sewing machine will help you to make your patchwork blocks easier and faster, this is why your sewing machine will be the best tool you can have at home.
Most of the sewing machines that comes with quilting feature are well built and any of them will be the best buy you can make today!
---
---
Disclosure: At Alejandra's Quilt Studio I like to read about sewing machines and other quilting products that can make my work while I make my quilts easier and better, as I research for these products i like to write the reviews that I think can help you to find the best product that can help you to make your quilts. If you like what I do, you can support me through my chosen links, which earn me a commission.