Christmas is just around the corner.
I always wonder when is the right time to decorate the house for Christmas, and it always looks too early to do it.
Weather is turning a little bit fresher in this part of the world, we use to spend more time inside.
The first time I got here, my husband was worried about me getting "Cabin Fever", it is known as people need to stay inside for long periods of time, as weather outside can be cold, after a few winters in South Quebec, I know this can be true, you can get tire and bore of being at "home" most of the time.
To make life easier during these long time inside, I have found keeping me busy helps a lot, and quilts give me always something to work on while I'm at home, and temperature is perfect to work on hand quilting.
To bring some new home decoration helps too, finding the way to make your place nicer and exacting will help you to be in a nice place for these long winter months.
Christmas' colors are fantastic to bring some color to your life, while outside can be all white and cold, red, green and yellow will warm up your heart.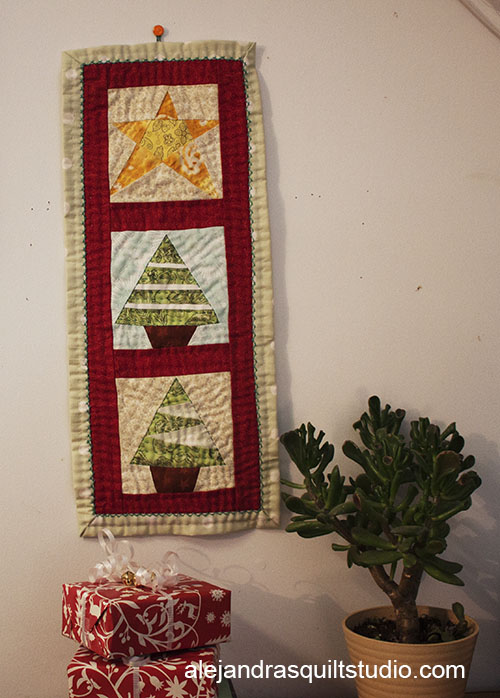 Making some mini quilts for the Holidays can be easy to make, they are just made with one to a few blocks, you can make them with those little pieces of fabric you refuse to put away, just because they are too pretty, but too small to make a full size quilt.
I made this mini quilt with just three blocks from my Paper Piecing Blocks,  I just added borders in between the blocks,  1 1/4″ wide and same long as each block, 5 ".
For the outside borders two are 5 x 1 1/4″ for the top and the bottom, for the two side borders cut two pieces same long as your mini quilt and 1 1/4″ wide.
For the batting fabric, after you lightly iron your top, place it on the batting fabric and cut it 1" bigger than the top.
For the fabric for the back of your mini quilt, place the batting fabric on the fabric, and cut the fabric half inch bigger (each side) than the batting fabric.
Make the sandwich, place a few safety pins to hold together the three layers and you can start making the quilting.
I love to hand quilt, but if you like to work it by machine, I'm sure it will look great when you finish it.
Once you finish the quilting, trim the batting fabric as your top. And trim the fabric for the back 1 bigger than the top.
You can finish the mini quilt with the self biding method, fold twice the fabric up on the edge of your quilt, and make little stitches by hand, or run your sewing machine to finish your mini quilt.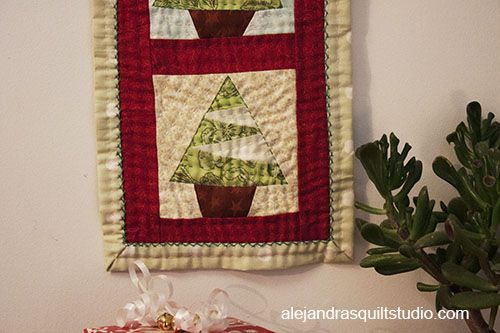 Mini Quilts are always easy and fun to make!!
You only need just one morning or one afternoon to make one.
I hope I give you an idea to decorate a corner on your home to make it look like Christmas, it's never to early to start decorating for the Holidays.
If you have any questions about this mini quilt, you can leave a comment here.
Be the first one to get my new Quilting Patterns and work, LIKE  Alejandra's Quilt Studio Fans Page on Facebook!
But you can leave a comment to introduce yourself and say Hi too!
Alejandra.