Just a few more weeks and we'll be celebrating Christmas!
Too many things on your to do list for Christmas already? every Christmas looks like we have so many things to do, an endless list to do!
Looks like there is no more time to make something new for this Christmas. It's nice to make something new for every Christmas, so I have a new mini quilt to make in time before you start decorating your home for the Holidays.
After I finished my Halloween mini quilt with just three blocks, it looks so cute when I finished and it was easy to make, one or maybe two days and you can finish it too.
So now it's time to make one mini quilt for the Holidays.
Today I have a free pattern to make the first block, you will need some fabric, green, white and light blue.
You can download and print up your pattern here: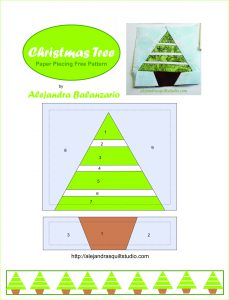 Make one or more blocks, I made one for this mini quilt and I made the second one for my Queen size quilt.
This time I want to show you how this block looks first when I made it, just after iron it.
2. When I added the borders
3. How this block looks like when it's all quilted.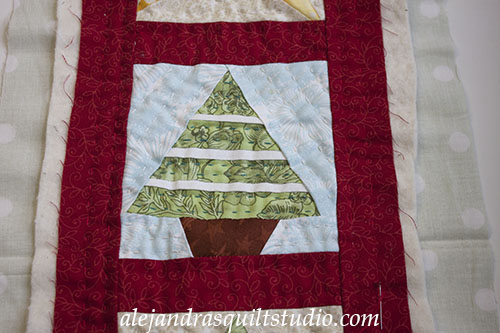 This time you need to follow the first step only, you will add the borders when you have your three blocks for this mini quilt done.
Hope you have some fun making this Christmas tree block,
Do you want to get the other two Christmas patterns free?(one Christmas tree and one star)
You need to comment here and like this Christmas Tree photo on my Facebook Fans Page, if this photo reaches 15 likes, I will give you the two Christmas Paper Piecing patterns free here on my blog.
You can follow me on my Facebook Page  Alejandra's Quilt Studio, to be the first one to get the updates of my work and my free patterns, don't miss any!
[bctt tweet="Christmas Mini Quilt, just in time to make your own!! https://alejandrasquiltstudio.com" username=""]
I thank you for making the time to visit me and read my blog, if you have any questions, leave a comment, I love to read from you!
Alejandra.