Making a baby quilt to give it as a welcoming present for a new mommy, I'm sure it will always make the new mom happy and I could add it might be one of the best gifts the new baby will get, if you have in your to do list to make one, you might be wondering How Much Does It Cost Making A Baby Quilt?
How Much Does it Cost Making A Baby Quilt?
I can say when a quilter makes a baby quilt to welcome a new baby into the family or to welcome the new baby of a good friend, we might not think about how much does it cost. Quilters love to make quilts!
I know well, quilters around the world love to make quilts to give them away!
But there's always the question you need to know, how much does it cost to make one small quilt. Just because it's always good to know.
When we talk about the real cost of making a quilt, there are many things to consider, the cost of the fabric, the time, and the labor you put to make it.
The Benefits Of Making A Baby Quilt
When a quilter makes a quilt, it has many benefits, we all know about them, from keeping your family warm and cozy during cold nights to give your personal touch to your home decor. But I always think making a quilt is to tell someone you love them.
But, when a quilter makes a baby quilt to give it away as a welcoming present, it has also some benefits.
A quilt is always unique – No matter you use the same fabrics to make it as other quilters do, it will have your personal touch, some more stitches here and there, and maybe a different piece of fabric here and there.
The new mom can use the quilt in many different ways – A baby quilt will keep the baby warm and cozy during the first months, later it can be used when the baby plays on the floor, it will help to keep the baby warm,
Bedroom decoration -later the quilt can be used as a bedroom decoration as it can be placed on a chair or to hang on the wall.
Quilts last in time – When a quilt is well-made it will last for years, a quilt can become part of the family and it can be passed from one generation to the next one.
How Long Does It Takes To Make A Baby Quilt?
Making a regular size quilt can take from a couple of weeks, to months or even years, when making a baby quilt, it can be made in one day, one week or a couple of weeks.
As baby quilts are smaller in size, you can make them faster, all will depend on what design you'll be working and whether you'll make it by machine or by hand.
When we talk about the cost of making a baby quilt, taking the time of making it, it's important.
What Are The Best Fabrics To Make A Baby Quilt?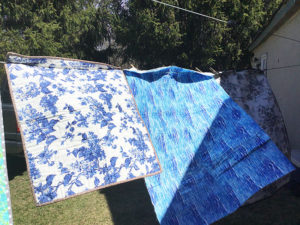 A baby quilt can be made with the cotton fabric used to makes a regular quilt, and it can be made as a regular quilt with the three layers that makes a quilt.
When we think about how much does it cost to make one, the fabrics quality is important.
Solid fabrics – It's well-known that you can find solid fabrics of good quality at a better price.
Cotton fabrics – Quilters know well that using cotton fabrics to makes a quilt is a matter of quality, it helps to work on the piecing better and the quality of using these fabrics is something we should not question, cotton fabrics can be expensive.
A Mix of Fabrics – When making a baby quilt, quilters can use a mix of fabrics, solids and cotton fabrics can be a good mix to makes a nice baby quilt.
How Much Fabric Do You Need To Make A Baby Quilt?
It will depend on the size of the baby quilt and the design or pattern you'll be using to make it.
There are some baby quilts with simple design that won't need a large quantity of fabric, but if you want to make an elaborate patchwork design, you need to consider to use more fabrics to make it.
I will share here how much I spend on the last baby quilt I made, it was made with squares, borders and applique.
$40.00 – Fabric to make the top
$ 5.00 – Batten fabric
$10.00 – Fabric for the back of the quilt
$55.00 – Total
I must add the prices of the fabrics will change from one country to another, and the price will be different from using one fabric quality from another.
A good tip would be, and quilters know it well, is to buy fabrics whenever you see the price is good, or when the fabric store has a sale, fabrics will always be in good shape, no matter how long you keep them stored waiting for a new quilt to make.
Closing
Making a new quilt is always good for any quilter, but when you makes a new baby quilt to welcoming a new baby in the family or from a good friend, we don't have any question about it, quilters loves to makes a new quilt!
I hope this post will give you some help to know the cost of making a quilt, in case you're asked to makes a quilt and put a price on it, just remember you need to add your labor cost to it, 1 x, 2 x or even 3 times the cost of the fabrics, it will depend on the design of the quilt and how elaborated it is.
Take a look to a FREE pattern Baby Quilt To make.
Now, it's your turn to tell me in a comment, do you used to makes a baby quilt to welcome new babies in the family?