When you love handmade quilts and quilts in general, you might also love all those beautiful quilts made with flower designs, among them you can find the Baltimore quilts, but you can also find those quilts made with blocks with single flowers or a bouquet, I'm sure you might love more than one, today I would like to share the Flower Applique Small Quilt to Make as we all stay at home during this time.
During the quarantine we all have been spending lots of time at home and we might have finished all the UFOs we had, so I decided to make a new small quilt.
This time I don't want to make it alone, so I decided to share the steps to make it, so you can make it along with me at home wherever you live. You can make it at your own pace, I'll be working on my own pace to share the finished quilts so you can take a look at it.
If you have followed me for some time, you might know already I moved to live in Canada a few years ago (10) and since that day, I learned the value of having warm weather again after the long and cold winter months, today I get excited every time I see a new flower blooming in my backyard.
This new small quilt will be a way to say thank you to mother nature to providing us again with warm weather, and so many beautiful flowers blooming again in our backyard.
How To Make The Applique 3D For A Quilt
Many of you might be new, and you might love to see those beautiful quilts made with flowers, this quilt is a small quilt with only 9 blocks.
The quilt size will be perfect for a baby girl or to help you to decorate your house by hanging it on a wall.
My goal to make this quilt is to share with you 9 different ways to make the applique 3D, as you work to finish you own small quilt, you will learn the steps to make each one of the 9 different flowers, all people interested to make it are welcome no matter you're quilting expertise level, I will explain the steps I follow to make each one of them.
Materials To Make The Flower Applique Small Quilt
9 pieces of beige cotton fabric of 6 1/2 x 5 inches
36 pieces of cotton fabric of 1 1/4 x 6 1/2 inches – I will use three different fabrics, so you need to cut 12 pieces from each fabric.
Cotton fabric of different color and prints to make the applique
Needle
Thread – I will use polyester 100 %, but you can use any thread you used to make your quilts
Patchwork ruler
Rotary cutter
Cutting mat
Sewing Machine
Block # 1 Video
Video
Tutorial
On this first tutorial I will share the steps to make the first block, a traditional method to make the applique.
It's an easy way to do the applique and it doesn't require any special tool to help you to make it, you can make it with the tools you have at home.
You can download the free pattern and make two copies of it, one to cut out the templates and one to keep it in case, you want to use it later again.
Cut out all the templates and lay each one on the fabric, mark each template on the fabric with a pencil or a marker for fabrics and cut out each piece adding 1/4 inch for the seam.
Make small cuts with the help of a pair of scissors on each piece on the curved places.
Fold the seam to the back of the pieces with the help of your fingers or a warm iron.
Let's Do The Applique.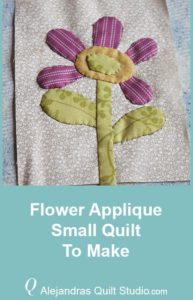 Once you have all the pieces ready, the first step is to work on the stem of the flower, I cut a piece of 1 x 4 1/2 inch from a green fabric and fold the seams of the two sides, place it on the center of the block, pinch two pins and do the applique with small applique stitches on both sides of the steam.
To make the rest of the applique, lay all the pieces for the flower and leaves on the block, pinch a pin on each piece or make a few running stitches on each piece to hold each piece on its place as you work on the applique.
To do the applique, you will need to fold the seam to the back of each piece as you keep working on it, you can watch on the video to see how I do it.
This is a small block to make, so you won't have any problem to finish in a short time.
In case, you have any question, please write a comment and I will reply to you.
On the next post, I will share another way to make a different flower, so stay tuned!