When you need to cut big and small pieces of fabric to make a new top, you need the Best Scissors For Quilting, today I share which are my favorites and why I decide to keep with this brand.
I've been quilting for a few years now and I have a few pairs of scissors from the cheapest that didn't last long, to the more expensive brand of scissors and that they work like a charm every time I used them.
Best Scissors For Quilting
If you have read about me, I was living in Mexico and I moved to Canada a few years ago, for that reason, that pair of scissors didn't come all the way with me, I gave them to one of my quilting students and I know they are in good hands today as she has become a good quilter too.
The first thing I did when I moved here was to get a new pair of scissors, and I got them from a brand I know for years (Fiskars) and I like it for its quality and also because you can find them almost anywhere and this brand has a good pair of scissors for every person who likes to sew and to quilt.
There're no rules about what kind of scissors you should have as a quilter, and you might need to try a few of them before you find the right pair of scissors for you.
It's well know quilters love to have a good pair of scissors right next to them, no matter if you're cutting some small pieces of cotton fabric or any other type of fabric, or if it's time to sew the pieces together to make a quilt, or at the time of work on the quilting, by hand or by machine.
* This post may contain Affiliate links, you can read disclaimer here. I personally use these scissors, that is why I recommend them.
How Many Pair Of Scissors Does A Quilter Need?
You'll need a good pair of big scissors to help you to cut any pieces of fabric at the time to cut all those fabric pieces you'll use to make a top.
When a quilter works on this step, nowadays your best quilting supply to use will be the rotary cutter, but you'll need to have a good pair of scissors on your work table to help you to cut any thread that is left after you used the rotary cutter.
At the time to prepare all the fabric applications that you'll be using on a quilt where you'll be working with some patchwork and with some applique or doing some embroidery on your quilts, you'll be using your scissors a lot.
They need to be sharp and in good condition to help you to make all those precision cuts on any type of fabric that you are working on.
A quilter will be working also with a few different materials like paper templates, patterns, for this purpose you'll need to have a second pair of scissors.
When the time comes to work on the quilting, you may want to have a small pair of scissors to help you to cut the thread off your quilt.
As you keep working to make quilts, you'll get to know some different types of scissors, and soon you'll have at least the three types of scissors I mentioned above. Later, you might get a full collection just to work on your quilting projects.
On this post I will share with you the scissors that I currently have and that I use almost every day, by doing this, you can see I only recommend quilting supplies I use everyday.
I know the brand has a big range of different kinds of scissors and if you don't like the ones I use, you might find the pair of scissors you're looking for.
---
My first Fiskars pair of scissor were an 8 – inch, soon they became my favorite quilting tool to have on the work table all the time.
When you need to cut fabric and be sure that it will go right, you can't go wrong with them.
These scissors are made high quality and you can cut all kind of fabric and different craft materials, but I will recommend to keep them just for your quilting materials, they will last for a long time and they will help you to work with more ease to make those beautiful quilts you'll be making, Get them now!
---
I got this pair of scissors about 7 years ago, I use them almost every day and I can say they are sharp as the first day that I used them!
This pair of scissor has become one of my favorites to have at hand when I'm working on my quilting projects, they are so easy to use and no matter how many pieces of fabric you need to cut to make a quilt, your hands won't get tired as this pair of scissors work with a spring that help you to cut as many pieces of fabric as you need with no effort at all.
At the time to make the patchwork blocks for a new quilt top, this will be the scissors you want to have right next to your sewing machine, they will help you to cut fast any piece of thread as you keep sewing with your sewing machine. Get them now!
---
Fiskars 6 Inch Softgrip Big Kids Scissors.
Who would have told me that this pair of scissor would become my favorite tool to have right next to me every time I work on my quilts.
I bought one pair of this scissors to give them to my grandson, but as soon as I tried them I knew I had to get a second pair of scissor for myself.
Since that day, I've been working with them to cut every piece of fabric I need no matter if I'm working on a Patchwork quilt or doing some applique.
The point is rounded which will help you to avoid any accident, and you can carry it in your quilting bag with no problem at all if you like to attend to quilting workshops or classes. Get them now!
---
How To Take Care Of Your Scissors.
Buying a good pair of scissors is a good investment, you'll be using them as often as you keep working to make quilts, these tips will help you to keep them in good conditions and they will work great every time you use them.
Only Use Your Scissors For Fabric.
It's well know by quilters that it is better to use scissors only to cut fabric, by doing this they will be sharp to work great every time you need to cut a new piece of fabric.
Scissors can get dull if you use them to cut everything, avoid cutting any piece of fabric where you pinched some pins, as they can damage scissors badly.
If you need to cut some paper patterns or templates, it will be better if you get a pair of scissor to cut paper. Get Them Now!
Sharpen Your Scissors Often ( Shears Too )
Quilters use scissors almost every day, so they can get dull and it will get more difficult to make good cuts on every piece of fabric you need for your next project.
When a pair of scissors start to get dull you can use a knife or a scissors sharpener to keep your scissors sharp at home.
Or you can take them to the sewing machine repair shop for a basic service: cleaning and sharpening.
By doing it, you'll give a longer life to your scissors and you don't need to get a new pair every year.
What You Can Do At Home To Keep Your Scissors Sharp.
Easy steps will help you to keep scissors in good shape.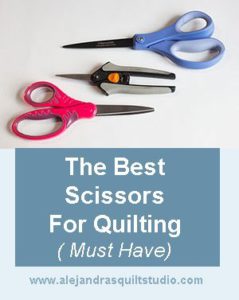 Every time  use them, wipe the blades, some fabrics can contain abrasive substances and can damage the metal in your scissors.
If you notice that the blades get sticky, you can wipe the blades with a little bit of water and with a cloth, after doing this, make sure you dry the blades completely to prevent any rust.
You can find scissor that work with a pivot screw, you need to tighten in once in a while, scissors need to be tight to work good. When you do this, add a drop of oil and wipe the excess of it with a cloth.
I thank you for your visit today, I hope I helped you to find the best scissors for quilting.
If you have another favorite brand of scissors and you'd love to share it, leave a comment, I'll read it and I might try those scissors too!
Get more ideas to make your next patchwork project here
Enjoyed this post, share the post on your Social Media, your friends might be looking to get a good pair of scissors to keep working on their Quilting and Patchwork projects.