New Easy Quilt To Make in 2020, back to the sewing room, and nothing better to make as a quilt with 12 different cute animals with the raw applique style.
If you follow me for a while, you might know I love to make a new Journal Quilt every year, but this time I will work in a different way, I will be making this quilt faster, it will take me maybe just a couple of months to finish it.
This Quilt will be worked as if it was a Journal Quilt, with 12 blocks, small blocks so it won't take long to work on it and to have it finished.
I chose to work with a new sewing technique: the raw applique, it's easy to work and it looks nice.
Each block will have a different animal, I will be sharing the FREE applique patterns here on the bloc, so you can bookmark the blog so you can find it later to finish this quilt.
As you might know, Australia is having hard times with the fires, and for weeks we all have heard how all animals are having really hard time there, Koalas have been in my thoughts most of the time.
As a tribute to the animals all over the globe, and mainly thinking of the animals in Australia this start of 2020, I start this quilt with a cute Koala pattern, so be welcome to work with me.
This quilt will be FREE patterns for you, but if you can help Australia animals by making a donation on a charity of your choice, I will thank you.
New Easy Quilt To Make: 12 Different Cute Animals
Materials You Need For The New Easy Quilt Make
12 squares of fabric in different color and prints of 6 x 6
A few 100 % cotton fabric for the applique
Gray polyester thread (if you like to work with a different kind of thread, it will be OK)
Scissors
Pins
A small embroidery hoop
Take a look to the Quilting Tools I use to make my quilts here!
Video
Step By Step Tutorial
Make The Top For The Quilt
1 – For the first step to make the quilt, it's time to make the top of the quilt, if you're a seasoned quilter, you won't have any problem to make a 12 blocks top, 3 x 4 blocks and each block is 6 x 6 inches.
If you're a beginner making quilts, you will need to cut the 12 blocks 6 x 6 inches with the help of the patchwork ruler, the rotary cutter and the cutting mat.
To make the top, you need to sew 3 stripes of 4 squares each strip (1/4″ seams) and press each strip. Continue to sew strip 1 to strip 2 and as a final step to make the top, sew strip 3 to strip 2, press.
Note: This week the top will be sewn this way, later we'll add the borders.
====> Click Here To Download The Koala FREE Pattern <====
Download The Free Pattern To Make The Koala Applique
2 – Download the free pattern and make two copies of it, you can save one in case you want to make this quilt later, and one copy to cut out the paper templates to make the quilt this time.
This time I'm working on the quilt to make the raw applique, by this means there will be no seams to fold under, so all you need to do is to lay each template over the fabric you picked to make this piece from, and trace the template with a pencil for fabric (I use a drawing pencil 2B, as it's soft and doesn't leave any mark, as you work to do the applique, the pencil mark vanish off the fabric) Use a regular color pencil to mark on light color fabric and use a white pencil to mark the templates on dark color fabrics.
Cut out the pieces from the fabric with the help of a good pair of scissors and don't add any seam.
Note: To make the Koala's ears, I cut two pieces of fabric 1 x 1/2″, and took off some threads from one side of each strip of fabric, then I folded each strip before I place each piece where the koala's ear go.
It's Time To Work On The Applique
3 – Lay all the pieces on one block of the top, you can arrange the different animals applique on the quilt as you chose to make your quilt or you can follow the same way I did.
Pinch a few pins to hold all the pieces of each block, then make some running stitches on each piece and remove the pins, this way it will be easier for you to work on the applique.
As this time the applique is raw applique, you need to work by making buttonhole stitches all around each piece.
Easy Way To Do The Embroidery
4 – On this small quilt, we'll be working on each block doing some small embroidery, this time, before the quilting, you can place your quilt on a hoop and do the embroidery of the eyes and the mouth, just a few stitches with gray thread, you can see how I did it on the video.
Congratulations, the first block of your new quilts is done and you did a great job!
The Koala block looks so cute, isn't it? Koalas are so adorable and they are having tough times this year, I wanted to include them in this new small quilt as a way to keep them in our thoughts and prayers for better times for the koalas and everyone in Australia.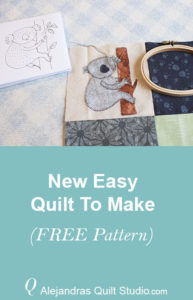 Well, this is all you'll be doing today, it didn't take long to finish and as you can see, it will be a small quilt to work and learn a new way to do the applique on a quilt, the raw applique style.
Note: If you don't like the raw applique style, you can add 1/4″ seam on each template and work on the applique the regular way to make it by folding the seams under each piece as you work on the applique.
I will share more patterns for you to download soon, so you can keep working on this quilt.
I thank you for your visit and I also thank you for following me on Social Media, the buttons are on the right top corner on the blog.
Thanks a lot for sharing this post on your Social Media!
What is your favorite animal? Leave your answer on a comment.
Puedes leer esta misma entrada en espanol en el blog de Ale Cose y Cose.com