Hello,
Weather is now too hot here in this beautiful part of the world, some days had been so hot that is hard to think about quilting.
But when you are a quilter, not even the hot weather can stop you to just jump in and start quilting that new quilt you have been working on.
And this is what exactly happened to me, I could not wait any longer to start working on the quilting.
There is a reason for this new step on my Paper Piecing Quilt I'm working on it, I'm afraid you may get bored to hear me talking about the same quilt often here on my blog.
Quilts are big, and it takes time to finish one, I really admire when a quilter finish a quilt in one week and share it on her blog and next week she can shares a new quilt. Some quilters are faster than me, I go stitch by stich. If you get bored about my slow quilting and so many post about the same quilt I apologize in advance.
The reason why I blog about this quilt often is there are a few steps on each quilt, and if you are interested on learning how to quilt, my often post might help you and give you an idea on what I do.
There are many quilters and each one has it's own way to work and its own style, for you might be interesting to visit some blogs about quilts and learn from the quilters you think their work is interesting for you. You might develop your own style and become a great quilter, Quilts are always a good idea to make as a hobby and as a business.
Quilt As You Go.
In last years there is a new way to quilt a Quilt, easier and faster, it is more focused on the quilting made by machine, it looks quite interesting to me, and as I worked on my quilt and it began to get bigger, I was wondering if I should try this new way to work on the quilting.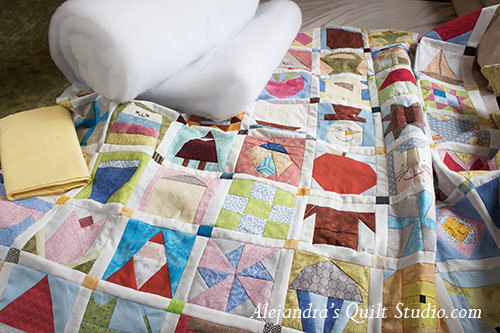 Last week I  show you my first 1/4 of the quilt, so this week I bought some solid yellow fabric for the back, and I had some batting at home, two days ago, I got everything on my bed.
Even that afternoon was a dark afternoon, I didn't want to miss to take some photos and share them with you.
Working on to make the sandwich for one 1/4 of the quilt is easier, and it is easier to take some photographs also. So it worked perfectly for me.
Placing the top on my bed, then place the batting , cut out the piece I need, then place the top on the batting, and then the fabric for the back of the quilt, and then place the safety pins on the sandwich, believe me or not, took me 2 hours to get everything done.
It was the first time I took the time while I did the sandwich for a quilt.
Finally, after the sandwich was ready, I could sit down and start the first quilting stitch on my quilt.
I'm always amazed how those little and sometimes not little stitches from the quilting make a big difference on a quilt, this is the magical moment when a top turns out on a beautiful quilt.
I still have lots to work on this quilt, but I have been working on it steadily for the last weeks, and I can see my quilt coming up nicely!
Are you making a quilt?
Do you like to do hand quilting?
If you have any questions about this quilt, leave a comment, I will answer it.
You always can follow my Facebook Fan Page, this way you can get my latest news from my work.
I thank you for taking the time to read my blog.
Alejandra.