When making your quilts, you might make them the traditional way or you might want to use a different fabric to make them, today I share what are the Best Batting For Quilts.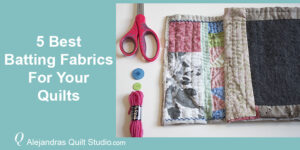 In the past weeks I've been working on a few different small quilting projects: a pair of mittens, a vest, and a couple of scarfs. But this time I wanted to test different fabrics for the backing with no need to add any batting.
I was looking to know how well the hand quilting can be made on a quilting project, when a different fabric is used for the backing, but it needed to be soft and warm to keep anyone who uses it warm and cozy, even on a cool day during winter.
Today I will tell you what I did and what fabrics I used and how it went when I finished each project, and how it went when I tested each finished project outdoors on a cool winter day in Canada.
Different Fabrics To Use As Batting For Quilts
Polyester 100% Quilt Batting
Since I started to make quilts (a few years ago) I've been working mostly with polyester 100% quilt batting, as it's easy to find in most of the specialty stores and it has an affordable price for most of the quilters around the world.
This batting can be found in different thickness, but I will recommend always using a thin batting to make your quilts, as I like traditional quilts. It is easy to wash and it's easy to work with when hand quilting.
It can be a little slippery when working on machine quilting, and this is the reason why many quilters who love to work the machine quilting will prefer the cotton 100% quilt batting to the polyester 100%.
There have been some problems with quilts made with the polyester batting, as it has had some bad reputation due to bearding (batting fibers poking through the quilt top when you work on the hand quilting) but this problem has been taken seriously by manufactures and you can find a quilt batting made with polyester that has been treated to prevent this problem.
Cotton 100% Quilt Batting
You can find the 100% Cotton in many quilting and sewing specialty stores, it can be found in a good range of widths and thickness, where you can choose the one you want to work with, my favorite is thin as it's always easier to work with.
The cotton 100% batting will help you to work on the hand or machine quilting and after washing your quilt, this batting will create a crinkly, vintage look to your quilt.
Wool Batting
If you're looking to make a warm and cozy quilt, then you need to get a wool batting for your next quilt, it is easy to work on the hand quilting and it will help you to create beautiful quilting designs.
Cons: It needs to be hand washed, with a neutral soap and cold water.
Using Flannel As A Quilt Backing
I like the soft and warm touch of flannel, so I decided to make a test and try it as a quilt backing for a small project, as flannel is a woven fabric, it's important to wash it before you start to work with it for your next quilting project as it might shrink and it also can fray, because of this, when buying a flannel for a quilting project, keep in mind you might need to buy more fabric for your project.
As I was working on the hand quilting, I noticed flannel is easy to work with and for small quilting projects or for a Summer Quilt, you don't need to make the quilting sandwich (quilt top + batting fabric + backing fabric), you're quilting project will be good just with the top and the flannel.
It's important to know there are different types of flannel on the market, from a very affordable price to an expensive price, and this goes hand in hand to flannel quality, I will always recommend to make a test run first with a small project, before you make a big quilt with flannel.
Using Wool Fabric As A Quilt Backing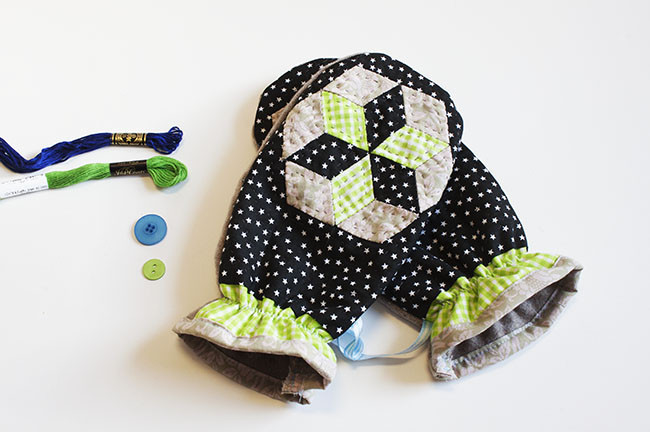 As you read on the previous post, I made a pair of mittens using a wool fabric (25% wool) as it was soft and cosy and I had some wool fabric from another project I made, I wanted to make a test using this fabric with a small quilting project.
I didn't use any batting to make the mittens, so it was only the top and the wool fabric, at the time to work on the hand quilting, it was soft and easy to work on, after finishing the hand quilting, I liked the quilting texture.
I tried the mittens with an outdoor temperature of -3 C with wind factor it felt like -8 C, and my hands were warm all the way for a walk of 30 minutes.
I also tried the wool fabric to make a scarf and it looks great.
Cons: Any project made using a wool fabric needs to be washed with cold water, by hand, and use only a neutral soap.
Using Fleece Fabric As A Quilt Backing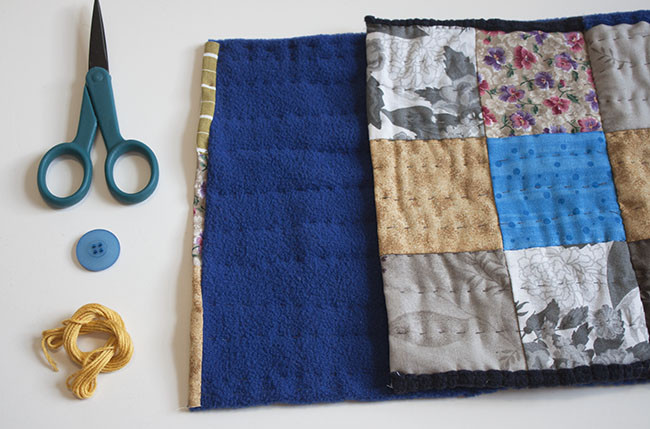 I had never used fleece as a quilt backing before, but I've seen some of my quilting friends making some quilts using fleece with no need to add any batting to their quilts. Most of the comments from them were a good review on using fleece for making their quilts.
So I decided I needed to make a small quilting project with fleece: a quilted scarf.
I made the top for the scarf using only small pieces of fabric I use to keep to make a project after finishing a quilt. This time I used a fleece fabric as backing, with no need to add any batting.
As I was working on the hand quilting, I could notice how easy is to work on it, first I needed some time to get used to how light the project is and the feeling of quilting on two fabrics only.
By the time to work on the edge, I only folded twice up the fleece on the front side of the scarf and I did the finish with buttonhole stitches all around the four sides of the scarf.
I liked how the finished quilted scarf looks and how soft it is, I think my quilting friends were right to use it for their quilts backing.
Using Recycled Wool Clothing For A Quilting Small Project
The last fabric I tested for a small quilting project was using the wool from an old sweater as the backing for a quilted scarf and a quilted vest.
As I was doing some cleaning at home, I found an old wool sweater and my first thought was to take it out of the house, but then I remembered how soft and cozy it was, and it deserved a second life.
So I worked first to make the quilted vest and as I was working to make it, I could notice how well it works, no need to add any batting to create a quilted texture on the project.
When I finished the quilting vest, I decided to make a scarf with the sleeves, it went well and I like how it looks, and this scarf might be my favorite scarf for this winter.
Cons:
Any quilting project you make using recycled wool fabric, needs to be washed by hand with cold water and neutral soap, and don't put it in the dryer.
Using recycled wool materials from clothing will be only to make small projects.
Best Batting Fabrics For Quilts Closing Thoughts
If you are a quilter like me, who likes to try different materials or fabrics to make your quilts, you might have a different fabric at home to make a small quilting project.
From making your quilts the traditional way with the quilting sandwich and using the batting made by manufactures for this purpose to try different textiles that will help you to make different quilting projects.
Making quilts is a creative process that never ends, I hope this post will help you to make your quilts using different fabrics.
Let me know in a comment if you have used a different fabric to make your quilts and you loved the results!
---
Puedes leer la misma entrada del blog en español en el blog de Ale Cose y Cose (punto) com – 5 Tipo de Telas Para Acolchar Patchwork aquí!
---
You can read more Quilting and Patchwork tutorials here!