Hand Quilting Thread will help you to work with ease on this step on your quilts and when you work with the right type of thread your quilt will always look beautiful
When you love to make quilts, you might want to get always the right materials and notions to work on them, the hand quilting thread is made with the right textile fibers to help you to work with ease, creating simple or elaborate quilting designs on your quilts.
Hand Quilting Thread
When I learned to make quilts (many years ago) I was lucky to be taught by two very nice American ladies, and they told me about the need to use Polyester 100% thread, as this thread is good for the piecing and the quilting.
I kept making my quilts with this type of thread for many years, and I still use it to work on the piecing by hand or with my sewing machine, I've made quilts for many years, and they are like they were made yesterday.
As everything in life changes, the thread used for hand quilting, has also changed, and today you can find more options on the market, that will help you to work with ease and as soon as you start working with thread made for hand quilting, you will notice the difference and how easy it is to work with them.
Today, I want to talk about the threads I always have in my sewing room and the Pros and Cons of each one of them.
Related: Best Scissors For Quilting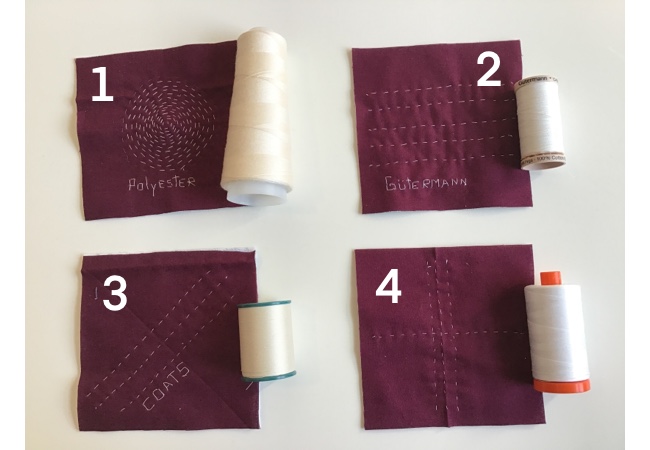 1 – Polyester 100% Thread
I must admit, I always have not one, but a few spools of this thread, as I like to switch from stitching with white or light beige thread to gray often. I find stitching with the polyester thread is easy and I can work on the piecing if it is by hand or with the sewing machine as well.
At the time of working on the hand quilting, I must say I used this type of thread in many quilts, some quilts were made when I started to make quilts, and some quilts were made last year or even this year.
Pros
Cheap
Can be found in any city, town and country.
There is plenty of colors to choose the one for your new quilt
Durability, quilts hand quilted with this type of thread can last for many years.
Cons
Its not made with a technology that is green.
Thread can tangle and it can get many knots, which makes your work harder and takes longer to finish.
2 – Guttermann Hand Quilting Thread
One day I decided to try the Guttermann Hand Quilting Thread to work on a regular size quilt, and that moment changed my life as a quilter!
The feel of this thread is thicker in your fingers, but when you start to work on the hand quilting, you can notice the difference and the high quality of this thread, since that moment, I always have one or two spools of this thread to work on any new hand quilting project.
Pros
High quality thread
Can be found in many different colors.
Easy to work with it
It doesn't tangle or make knots while you work with it.
Cons
Its hard to find in some countries, cities or towns around the globe.
Price is higher than the Polyester thread.
Thread is thicker, which makes it harder to put it on the quilting needle.
3 – Coats & Clark Hand Quilting Thread
Made with a blend of polyester and cotton
Thin thread
Dosen't tangle
200 mt (250 yds)
Can be purchased online
Coats & Clark is a blend of polyester and cotton, which makes of this thread more accessible than Guttermann thread. When you use this thread, it feels a little thinner, which make it better to work with it.
When you work with the Coats & Clark Hand Quilting Thread, it will give a nice quilted texture to your quilts, and they will last in good shape for many years.
Pros
It works great.
It doesn't tangle at all.
Good price tag
Cons
Not many colors where you can choose the color thread to work for your quilt.
Its not available in every country
4 – Aurifil Hand Quilting Thread
Cotton 100%
Made with long cotton fibers, which helps to work great with it and this gives this thread its strength.
Made in Italy
Over 200 colors to choose the one you'll be working on your next quilt.
It can be purchased online
1300 mt spool
I've been listening to many quilters talking about how well Aurifil thread works to do the hand quilting on their quilts, so I had to purchase one and try it out.
After I got it, I made a test on a small hand quilting project, and I must say it works really nice, it's thin and it doesn't tangle at all, it's easy to thread on the needle and it works smoothly through the three layers of fabric on the quilting sandwich.
Pros
Cotton 100%
Many colors to choose from for your next quilt
It works very well and it doesn't tangle.
It can be used for the piecing of a new quilt top.
It can be used for both, hand quilting and free motion quilting
Cons
What Type of Thread not to Use For Hand Quilting
Old Thread – As a quilter, some friends had given me the old thread they found on their parents or grandparents house.
When thread is kept for a few years without being used, it can get weak and not work as it was made for, also when your given any type of old thread, check on the composition of the thread, some cotton old thread will break a lot on the needle.
Embroidery Thread – This type of thread is made specially for embroidery, and it needs to be worked with the right embroidery needle, which has a bigger eye to help the thread go through the fabric without any damage.
For this reason, this thread is not made to work great to be sewn through the three layers of fabric on a quilt.
However, many quilters use the embroidery thread to give the quilt a touch of color or a different texture, I've done that and it looks great, but you need to know, embroidery thread will not give the guilt the strength it needs, and any time you use any embroidery thread, it might need to be also partially quilted with a good type of thread for hand quilting or you can use the embroidery thread on small projects.
Hand Quilting Thread – Closing Thoughts
We all love to make our quilts, and we work on them for many hours, working with the right materials and notions will make our work better and easier.
Quilters around the world know well, making a quilt can cost some money, as a quilter I like to try different materials and notions to see how they work, from being working on the hand quilting for many years with the polyester 100% thread, as my quilting teacher taught me, many years ago, I've been testing some different types of thread for hand quilting.
After I worked on a king-size quilt with the thread especially made for hand quilting, I don't want to use any other thread on my quilts.
Any time I have the chance to visit a fabric store, I like to check what type of thread they have available for hand quilting and I buy one or two spools to have them at home, as I'm always working on a new quilt.
Thanks so much for reading my blog today, I hope you find helpful these tips about why is better to use a good hand quilting thread on your next quilt.
If you're reading me from a country where it is not easy to get this type of hand quilting threads, keep using the polyester thread, it's cheap, and it can be found anywhere, as the most important is that you keep making your quilts, and enjoy every step you work on them!
Feel free to be in touch with me on my Social Media
Facebook – Alejandra's Quilt Studio
Instagram – alebalanzario.patchwork
Thanks so much for sharing my blog on your Social Media!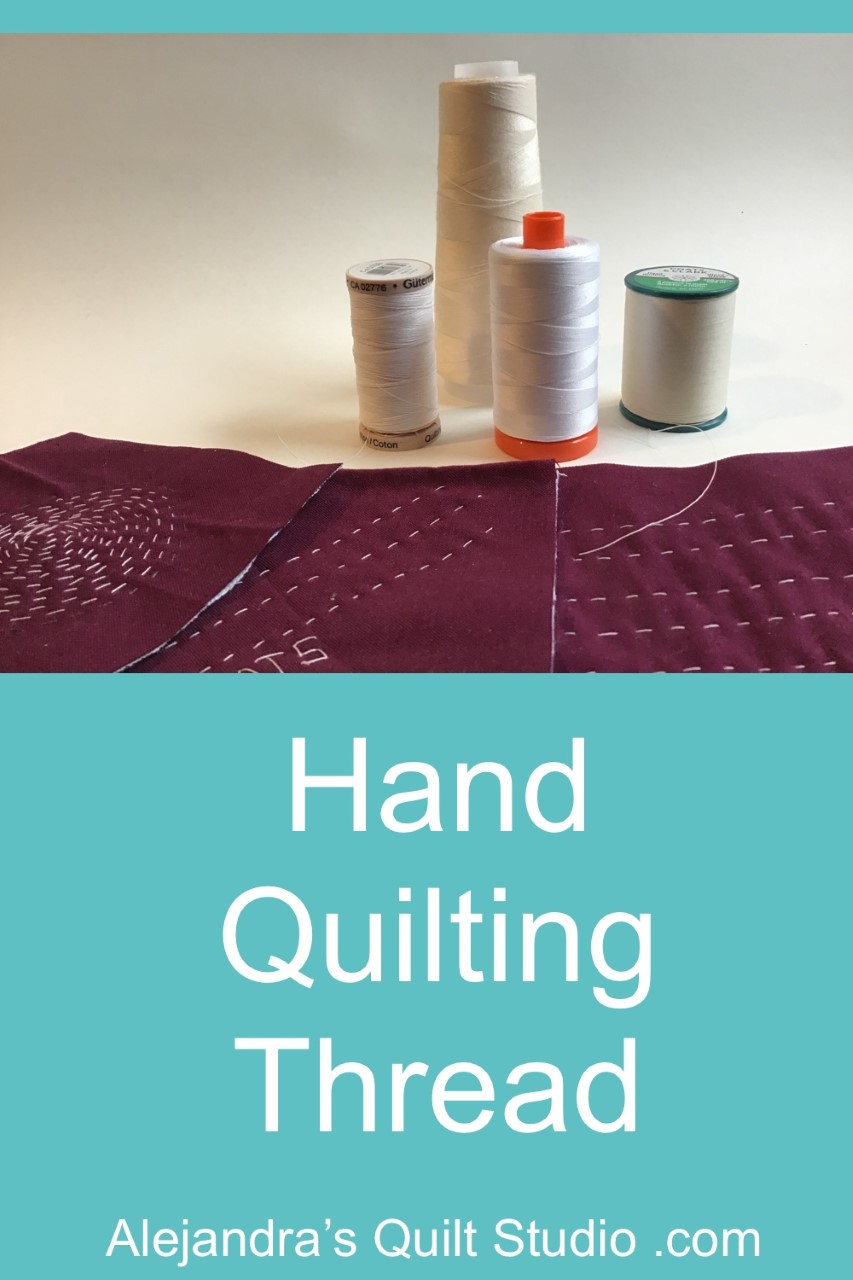 ---
Puedes leer esta entrada en el blog en espanol para saber mas sobre los diferentes Tipos de Hilo Para El Acolchado A Mano aqui!
---
Watch the video here: