I have no doubt since I first saw the first quilt ever I fall in love with them.
Then, when I discover the power of the applique in Patchwork I became an  addict.
I think since the first piece I made with applique I have tried to do at least one or two things applique in ever quilt.
Every quilt is an art piece for me, but every time I see a quilt with some applique work it's like magic.
How to Applique in Patchwork
It's not hard to do it, once you understand how to do it, it becomes a part of your quilts.
I told you on my previous blog post about the kitchen apron I found at the dollar store last week and how I started to work on it with a piece of applique,  I could work on it this week a little bit more and I could call it finished.
It doesn't take long to work on an applique piece, the more you do it the easier it gets, and when you discover  how some embroidery stitches work pretty good to help you to highlight your work you will get hooked on it too.
This kitchen apron was a small piece to work on, it helped to do it and I like how it looks now.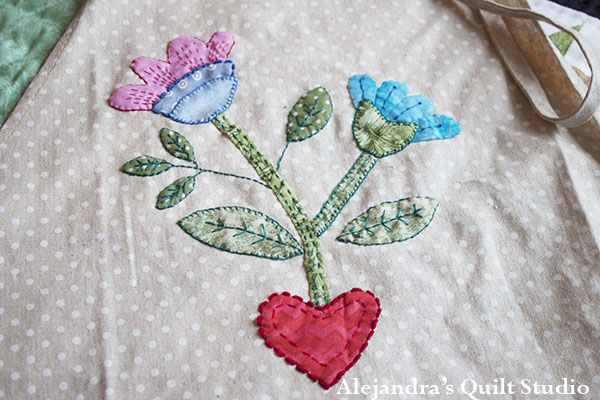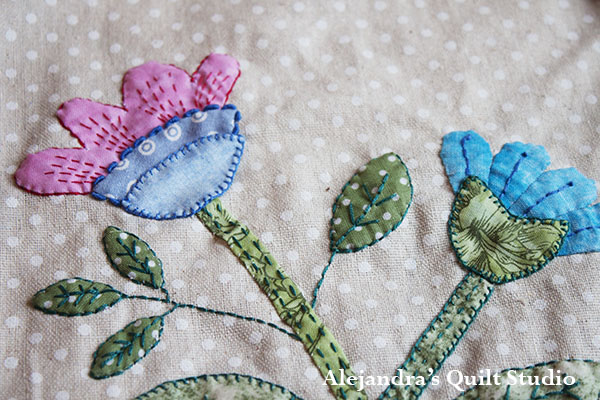 If you are a beginner on applique I will advice you to work on a small project for the first time.
The pro points about this kitchen apron would be it looks cute now.
The cons point about it would be, I won't use it to cook everyday, think I will keep it for a special time.
This time I made a short video about how I work while I do some embroidery stitches when I work on the applique, it is in Spanish but think it would give you the idea on how I work.
Translation of video: I work with button hole stitches all along the edge of steam, with two threads of cotton floss of DMC 100 % cotton for embroidery.
Once I get to the edge of the steam I get the needle in between the fabrics so I don't need to cut off the thread and keep working with it, I decided to make some running stitches on the steam.
Once I finish to work on the embroidery stitches, I normally get the needle on the back of the fabric to make a final knot and cut off the thread.
[bctt tweet="How to applique in patchwork" username=""]
If you have any questions about how I work with applique and embroidery on my quilts, leave a comment and I will answer to you.
Alejandra.
Get more ideas to make with my Free quilting and patchwork patterns
If you would like to read this blog entry in Spanish you can visit http://alecoseycose.com/