Easy steps to do the applique on a Quilt
If you love to make patchwork and if you love to applique this article is for you!
Last week I visited the dollar store and I found a beautiful apron made in high quality 100 % cotton fabric in beige just for 3 dollars, I couldn't stop myself from buying one for myself.
Once at home I decided to do some applique on it, so I also decided to do a tutorial for you too, if you want to work on an apron as well any apron you have at home will work perfect for this project, but if you don't want to make an apron you might want to make a pillow instead, it will work perfect too.
Let's get to work! Let's make a heart with some flowers!
. Every time I start to work on a new project with applique, I draw the design on paper, when I'm happy how it looks I stop drawing and go for step two.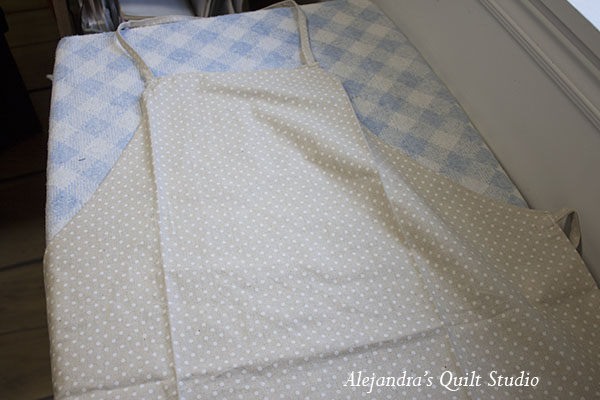 . This is the beige apron from dollar store, isn't it pretty?, it needs something more on it.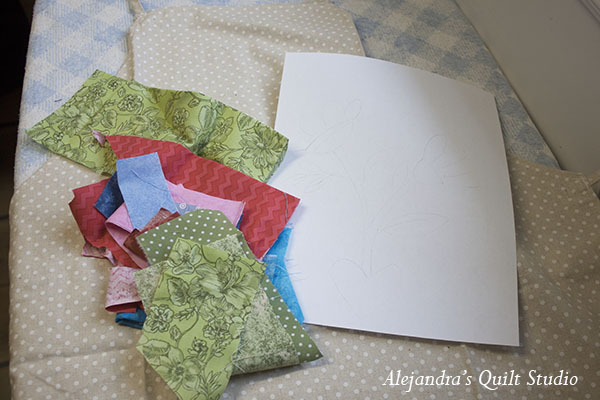 . Second step is to go to look for some cotton fabrics to work with, once I'm happy how they look together, I go for next step.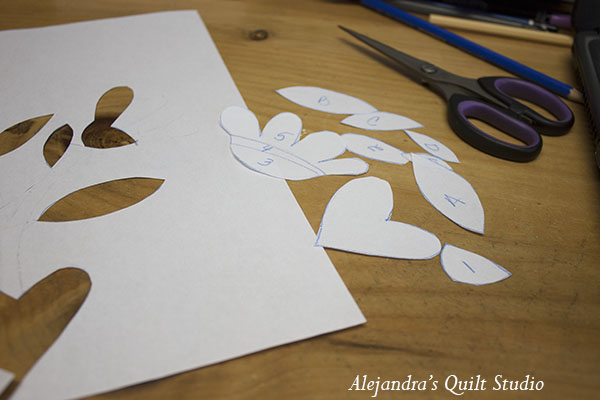 . On my work table, I write down some numbers and letters on each part of the paper pieces, then with the help of a pair of scissors for paper I cut out each piece.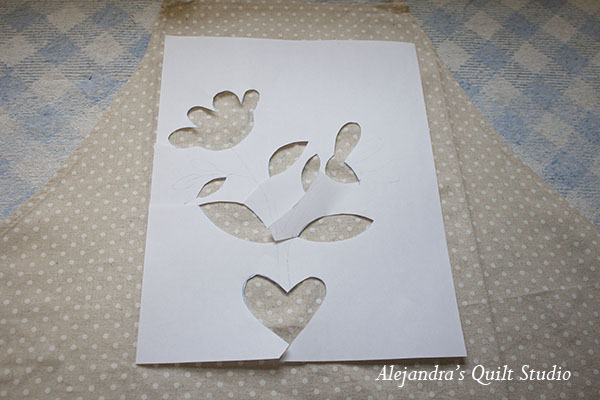 . This time I'm placing the paper where I cut out the pieces for the applique on the apron, I will mark the lines where each part will go, I do this step with a regular pencil, I just mark down very lightly, so pencil marks will fade when I wash the apron.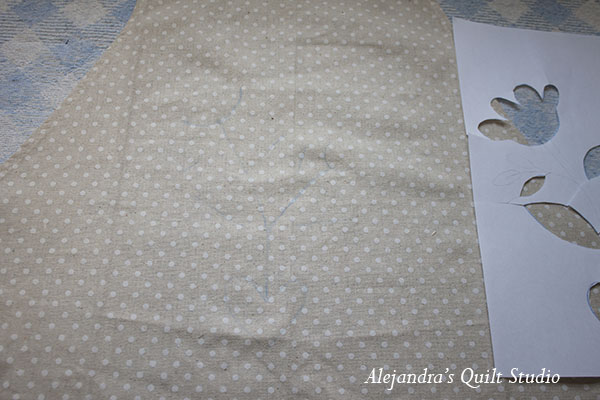 . It is very light the pencil marks on the apron, you can get the idea.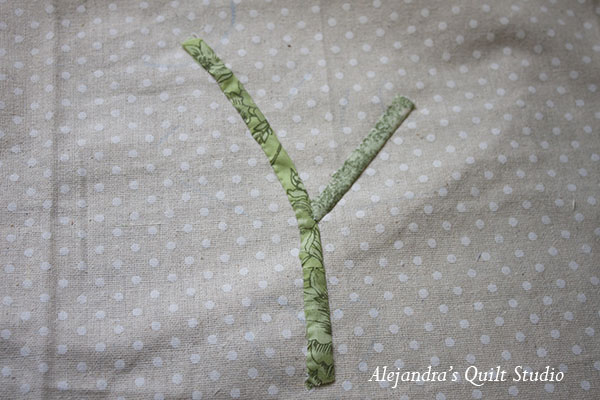 . To applique the bias I cut a bias piece on green and I do the applique.
This time I made a video to show you how I work when I do the applique of bias, it is in Spanish but hope you can get the idea.
Translation of the video.
I cut first the pieces to applique on the fabric (bias), I place the piece just right next to one pencil line, I run some little running stitches all along the piece (1/4 " seam)
I fold the strip like it was a bias, and I made little stitches to sew it to the fabric, this way all seams will stay inside the bias.
If you notice your stitches are not as little as you wish to, and stitches show up on your work, don't worry, when making patchwork, textures are important, big stitches or stitches that show up are ok and in most of cases they add your personal signature to your work.
[bctt tweet="When doing Patchwork, big stitches are part of your own signature." username=""]
If you have any questions, leave a comment I will answer it.
If you want to be the first one to know about my work updates, you can follow my Facebook page Alejandra's Quilt Studio and my twitter account, I will post on both my newest work!.
Alejandra.
You can find all the tools you need to make patchwork and your quilts here!
---
Puedes leer en espanol como aplicar en el patchwork en http://alecoseycose.com