Hand quilting is the new yoga!
At least it is for me.
To do some hand quilting early every morning is like doing some yoga for me, it helps me to relax, and if through the day things go out of control and it gets a little bit chaotic, well there is always my favorite corner at home where my quilt waits for me to do some hand quilting on it again.
Every time I see how a simple cotton fabric can turns into a beautiful top and then with the hand quilting it can get just breath taking quilt I could say it's priceless.
Today is laundry day at home, so I took bed clothing to the laundry and took a moment to spread the new quilt I'm working on the bed.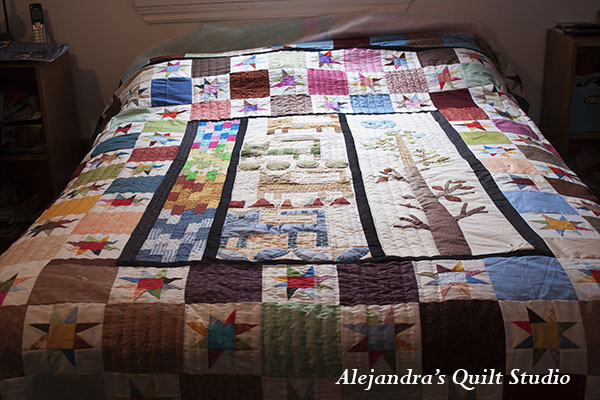 I like to do this, I mean lay the unfinished quilt on the bed, this helps me to take a look at it.
I remember an art teacher I had, she was an excellent teacher and she told me, "every time you work on a new work, place it far from where you are and take a look at it, then it will let you know where you need to work or if it's time to call it done".
It was a good advice and it goes pretty good with quilts, if you take a look at your quilt from far, you can check how your hand quilting is going and you can notice any mistake you might have done before it's too late to work on it before you keep working more and more on your quilt.
To work on a quilt it's always magic, being able to cut that beautiful fabric you bought into little pieces, then spend hours sewing them together to make the quilt, and then once more work more and more hours doing the hand quilting, and in one moment you will get your quilt done.
I began to work on the hand quilting on this quilt two weeks ago, I'm happy to report to you that half of the quilt it's done, I have been working only from one hour to an hour and a half every day, and this past weekend I didn't work on it as I had to work. So not bad, I'm half way already.
Have you made any quilt by yourself?
If you haven't and you want to give it a try, well I have some news for you, I'm already working on a small project you might want to make one for yourself.
Keep in touch, and if you want to know what will it be, you can follow me on my Facebook Fan Page Alejandra's Quilt Studio so you can be the first one to get the updates.
You will need a few fabrics, one needle and some light beige thread.
I think it's time we do some quilting together!!
Alejandra.
Ready to start making your new quilt? Get all your quilting favorite tools here!
---
Para leer en espanol sobre mi trabajo de patchwork, puedes ir a http://alecoseycose.com