If you have been making quilts you might know how to make the "quilting sandwich", but if you are working on your first quilt or if you want to make your first quilt and you have no idea on how to work on placing the three layers together, this post of for you.
If you know already how to work this step out, it's always nice to see how other quilters do it.
Easy steps to make a quilt
I guess in time every quilter might develop it's unique way to do it, I keep working on my quilts with a traditional "old fashion" way.
To tell you a secret before I start showing my steps to place the three layers together, I find modern machine quilting unique and beautiful, at the moment I can't afford to pay to someone to work on my quilt, I have tried to do it on my home sewing machine by myself, but I'm not yet happy with my quilting results.
And the most important fact about why I still working with the traditional old fashion quilting way it's just because I love to do it this way, I love to see how a top turns into a beautiful quilt with each stitch I made on it.
Every time I work on a quilt, I start the quilting and while I work on it, as it's made within time as no quilt is hand quilting in one day, it may end in a different way from the beginning, with this I want to say, it might be doing some embroidery, it might be some decorative stitches, some beads or buttons, I don't know yet, I will let the quilt talks to me while I work on it.
Placing the three layers together To Make A Quilt.
Once the top is finished and lightly ironed, I worked to build up the back of quilt, I don't like just one piece of fabric, even I have use it for many quilts, I like to add some different blocks on different fabrics, this way a quilt will have two sides.
Any time you want to, you can place your quilt on your bed one side or the other, both will look nice and interesting.
The first thing I had to do was to get the three layers of fabric that any quilter needs to work to made the quilting sandwich,  the top, quilting fabric or batting and the fabric for the back.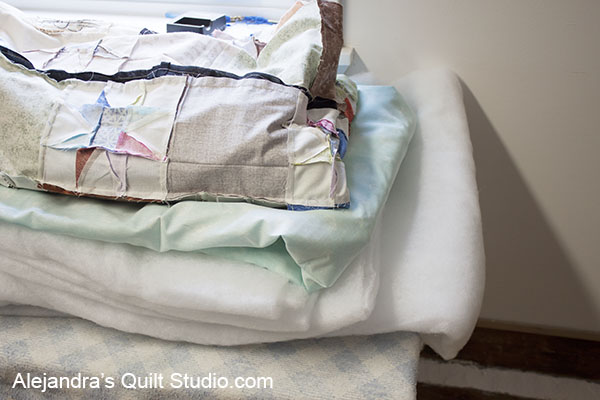 On this photo above you can see the three layers of fabric together, I just made this to give me an idea of how big this quilt will be once is finished, big one!
I just want to talk about how much I spend on this quilt, well on the top, lots of dollars, as I bought many pieces of fat quarters, to give you an idea it might be about 200 Canadian dollars, on the batting it was around 25 Canadian dollars, on the fabric for the back around  50 Canadian dollars. In total 275 Canadian dollars.
If I tell you how many hours I spend working on it!! it was many, many hours I've spend working on it, but I think I really enjoy making quilts.
I talk about "how much you can spend on a quilt" just because is quite interesting to know more about it, next time someone ask you to make a quilt, be sure this person knows about the real value of a "QUILT".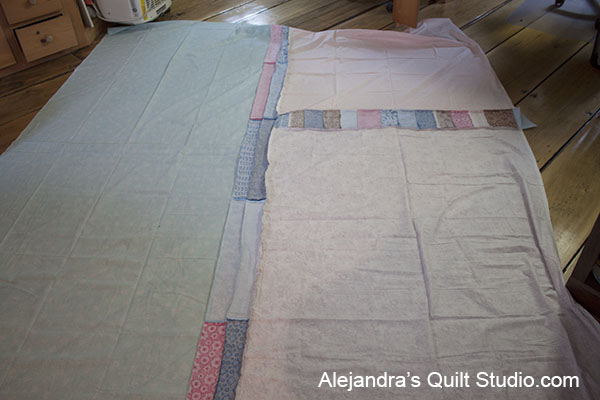 Next step was to move away for furniture in the room to make enough room to place the quilt on the floor.
Winter days can be a kind of dark here at Quebec, this day it was a particular dark day, and photos are not the best, but I think they will give you an idea on how you can make a quilt sandwich too.
So I place the back of the quilt facing down.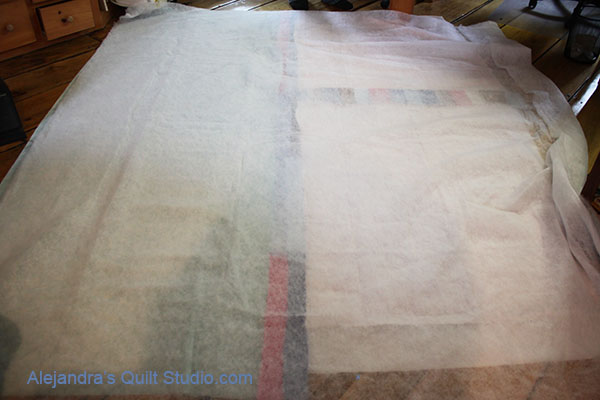 Then I lay the batting fabric on the first layer (the back of the quilt).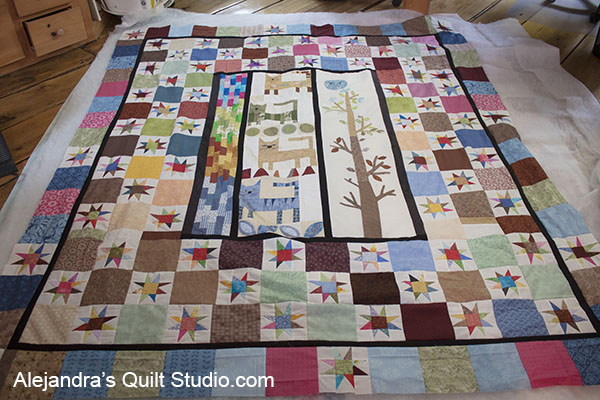 The "Aha!" moment comes when I placed the top on the other two layers, "looks nice, isn't it?"
After you take a moment or two just to admire your work, it's time to get on your knees and get on it, place some safety pins here and there to hold the three layers of fabric.
As many as you need, when you get some experience and you find the way to work on your quilts your own style, you will need less safety pins on your quilts.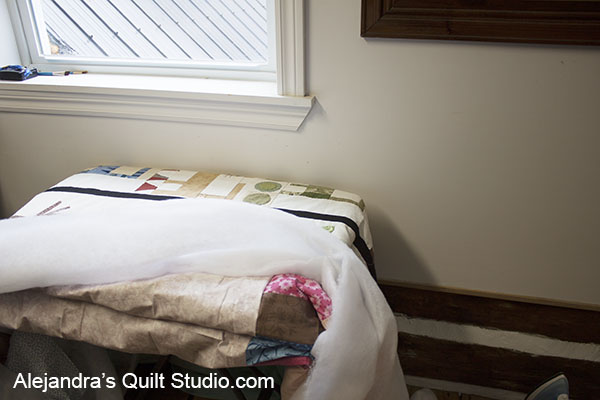 First stitches to start the hand quilting on a quilt
Time to go on the table, I used to do this step on a big table, to be able to place the quilt the best while I was working on a quilt, this time I don't have a big table as you can see on this photo, as the quilt will stay on this table for a few weeks while I work on it, I can't place it on the kitchen table, this time I think I will keep it on this little table right next to this window which provides good natural sun light, I don't work any more on my quilts with artificial light, and I work just for one or two hours every day.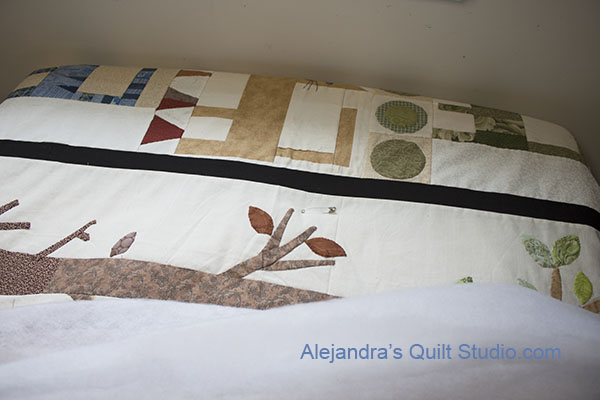 This quilt is ready for the first stitch of the hand quilting!
So, this is it, a tutorial on how you can also work on a quilt with the "old fashion" hand quilting.
I will keep you updated with my work on it as I work on it, if I do something different or some embroidery I promise to show you the step by step, I hope you get inspired to work on a quilt.
[bctt tweet="To make a quilt, you need to place the three layers of fabric together." username=""]
If you have any questions about how to quilt your quilt this way, please leave a comment.
If you want to be the first one to get the updates, you can follow my Facebook Page Alejandra's Quilt Studio.
For a Spanish version of this post you can visit Ale cose y cose.com
I thank you for making the time to stop and read my quilting adventures and I hope to inspire you to make a quilt.
Alejandra.