I'm sure every time you see a quilt you think you want to make one for you!
The only thing that stops you might be you think making a quilt is a hard project to do.
To be honest, let me tell you, making a quilt is not hard to make, the only "hard thing" about making a quilt might be the size, some quilts are big, if we talk about a full, Queen or even a King Size quilt.
How To Do Hand Quilting On Any Quilt
But I'm sure once you make your first quilt you will be in love with this beautiful art of making quilts.
And once you finished your first quilt, you will show it to your family and friends and I'm sure they will be asking you to make one for them. This list can be a long list some times.
The point here is quilting is an art and in many cases it's a hobby, so you won't spend your life just quilting, you need to work on your quilts as much as you want to like I do, I don't quilt all the time.
If you are already a quilter, and you have made a few or many, you know already about what I talk, a quilt is not made in one day.
And if you do hand quilting, it can take longer to finish a quilt.
How to quilt a quilt.
First you need to work on your quilt sandwich or laying the three layers of fabric to get the sandwich before you start quilting.
Once you get it done, you need to decide whether or not to do hand quilting or machine quilting.
I'm a fan of hand quilting, so this entry on my blog I will share some steps on how I do it.
The best way to learn how to quilt is from a teacher
If you are a quilter already, you might have your own way to do the hand quilting, I learned long time ago from two teachers, they taught me how to work on the hand quilting as the first women used to work on it, yes I do it as the old fashion way.
I have been quilting for a long time, and my hand quilting has changed with time and with every quilt I had made.
There are many things to help quilters with this step with great results and helping them to do it in an easier way, quilting hoop is one way to place a quilt and work on a space, every time you finish the quilting you need to take out the quilt from the hoop place the next area where you will work and you need to do it until you finish it.
I got used to do the hand quilting by placing the quilt on a table, and I follow the rule to start quilting from the center to the outer sides of the quilt.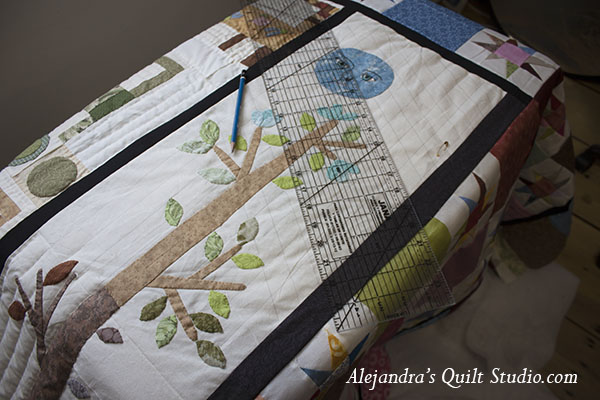 By doing this way, I avoid the fabric on the back makes bags or wrinkles.
I hand quilting one area first and I keep working on the next area, I keep working this way until I finish one side, then I place the quilt on the table to work on the next area.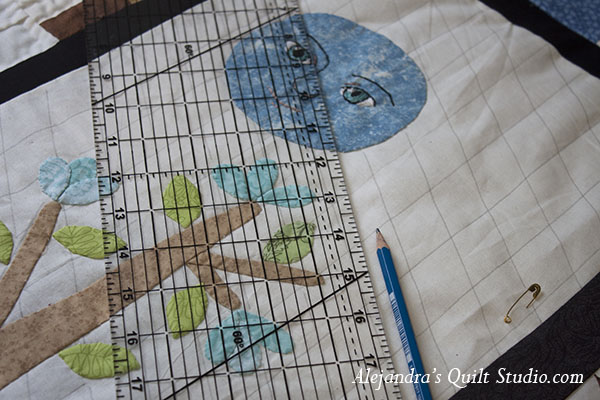 This quilt I'm working on has a center, on one of the blocks it has a big white area, too big just to do a few stitches on it, so I decided to work more on it, I'm doing some little rectangles as big as one inch, to mark the lines down on the fabric I use my quilting ruler to draw each line with the help of a pencil.
This way I can do the quilting lines straight.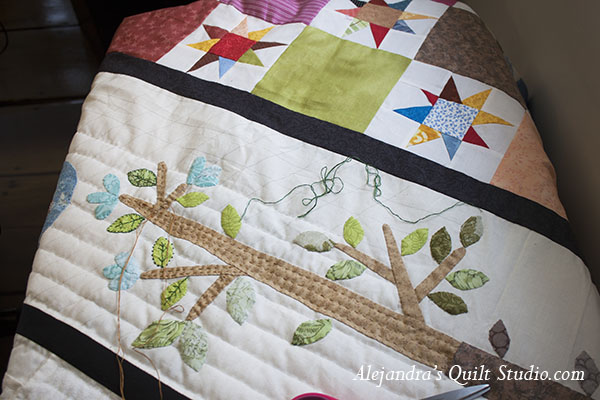 I did some applique on the center, and I use now to do some embroidery on the applications, so I work with some DMC mouline floss to do the embroidery.
Little by little I work on the hand applique, this quilt is starting to look more like a quilt.
How much and how often you need to work on your quilting?
My answer here is, work as much as you can, it's a hobby and it's an art.
Unless you sell your quilts to make a living, you don't need to spend all day quilting.
I work on my hand quilting one or two hours per day, and this makes the difference.
What is the secret to finish a quilt?
To keep at it, if I only work one or two hours per day on it, I like to quilt every day even if it's a little.
This way I don't get sore and I like to go back to my quilt every day to work on it.
[bctt tweet="How to hand quilt your own quilt." username=""]
As I keep working on this quilt I will keep you with the updates. My goal here is to know how many hours takes to finish a quilt when I do hand quilting.
If you want to know the first one to get the updates, you can follow my Facebook page Alejandra's Quilt Studio and give it a LIKE.
Are you a professional quilter or do you want to make your first quilt?
Alejandra.
Puedes leer este articulo en espanol en Ale cose y cose.com