Easy steps to hand quilt a big quilt.
I have always think Patchwork is an activity great to do, I'm amazed on how every time I start joining those little pieces of fabric they become into a piece of art.
Color, texture of fabric, all those tiny designs on each one of the fabric you use to sew up a quilt, when they get together no doubt at all it becomes a piece of art.
If you ask me about what makes many people get hooked on this quilt making every day, I'm sure I will tell you there is magic in it.
The magic that comes out from sewing together little pieces of fabric into the simplest or the most elaborate designs.
No wonder why people who make their first quilt won't stop making quilts, and it's just because the magic of making a quilt.
Little by little you will be working on your quilt, then you will realize you get to the point to quilt it, by hand or by machine.
As I have told you before I'm fan of hand quilting, so my life story is about it, today I would like to share with you about how I keep working on a big quilt when I work with hand quilting.
Size of the quilt matters.
A quilt can go from just a few inches per side to king size quilt, and it's not the same to quilt a small quilt that you can quilt it in an afternoon then working on a big quilt that you need to work for a few days, weeks, months and in some cases even years.
What keeps me to work on a quilt while making the hand quilting?
Currently I'm working on a Queen size quilt, hand quilting, and I set a goal for it, at the beginning this quilt became an UFO for a couple of years, then I discovered it in the bottom of a drawer, since that moment I kept the quilt where I could see it everyday so it wouldn't become again an UFO.
I worked on the top and my first idea for it changed but I like how it looks like now. This is one important subject when you work on a big quilt, you need to love it, when you do a quilt you don't like it's harder to keep working on it.
How can you finish to work on a quilt you don't like?, well it can be easy, some times you will find yourself working on a quilt someone ask you to make, and not always their taste will be yours.
Back to my quilt, I set a goal for myself to work on the hand quilting for an hour or hour and half every day, so far I'm working this way, and I can see great results, in one week I have done a 1/4 of the quilt.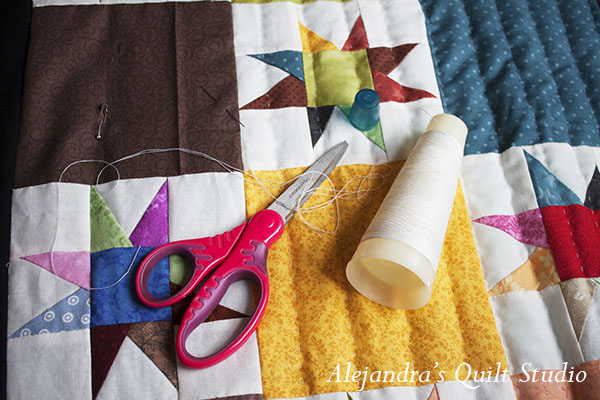 Today I would like to share with you the tools I use when I do hand quilting.
Needle: When I started to quilt I used the quilting needles, but I find them so little for my fingers to work with them, so I stopped to use them, now I hand quilt with a regular needle, it's longer with a bigger eye so it makes me easy to thread it.
If you work with hand quilting you need to try out a few different needles until you find the right one for you, today when you do hand quilting, each quilter becomes an artist, you will work on your quilt your own style, feel free to work according to yourself, enjoy every stitch and find your own voice.
Every thing you do when you hand quilt will be right, small stitches, big stitches, beige thread or colored, no embroidery or some embroidery, no bead or some beads, what it's more important here is to find your own style.
Scissors: As you can see on this picture above, my scissors are children scissors, there was the time when I used to own a Fiskars orange scissors, the classic one, when I moved to Canada I had to sell or donate all my quilting stuff, when I arrived here I got myself a new pair of scissors so I bought this little children Fiskars scissors, would I recommend it for quilting, yes I would, I can do everything with it with good results.
Thread: I use to buy this kind of big cones of thread, 100 % polyester in beige, it last long even when I use it a lot.
Thimble: I have tried many, from the old fashion thimble to leather thimble for quilters, one day I bought this soft plastic thimble and since that day I love to work with it, it sticks to my finger so nicely that I can be working with it with no notice it is in my finger and it prevents my finger to get hurt every time I push the needle with my finger.
I strongly recommend you try some different types of thimbles until you find the right one for you, it will help you to work on your quilt better.
On this picture above you can see how the quilt looks like with the hand quilting and some part of the quilt I haven't done yet the hand quilting.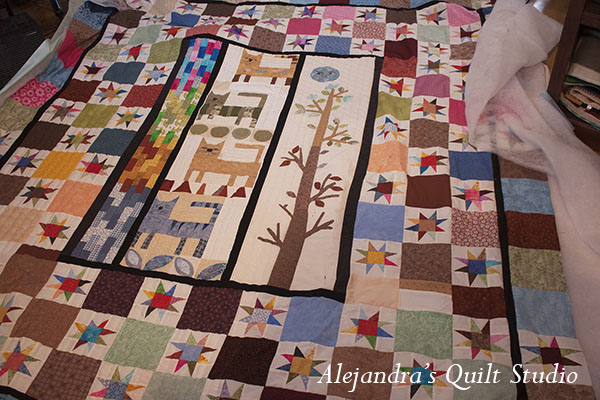 This morning I placed again the quilt on the floor to show you how it looks like, the center and some of the sides are already quilted.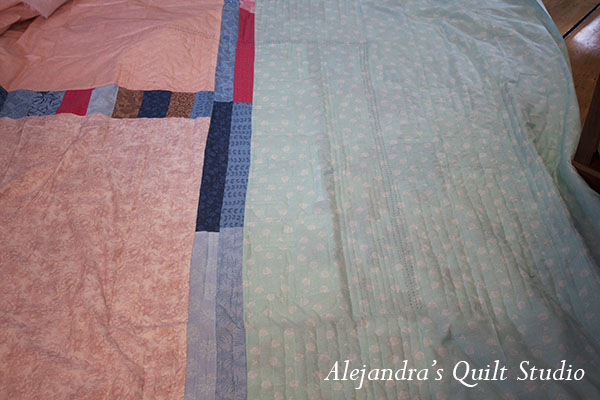 On the back of the quilt,  you can see some of the hand quilting on the blue side and the pink side will be quilted soon.
Little by little with every stitch this big quilt is getting quilted, the magic happens every time I work on it.
[bctt tweet="When you hand quilts a quilt the magic happens!" username=""]
Have you made a big quilt yet?
Do you hand quilt or machine quilt?
If you have any questions about how to hand quilt your big quilt, leave a comment.
I will continue to work on this quilt, I will share with you my updates soon. I thank you for making the time to stop and read my quilting adventures.
Alejandra.
This time I share with you my tools in case you are looking for some tools to work on your hand quilting, some of links are from Amazon.com, where you can get any tools you need for your quilting.
Sharing links from affiliates will not cost you more, you will get any quilting tool you need on the regular prices and I will get a small %, it will help me to get on my quilting adventures. I thank you for it!.