Hello everyone!
When I came to live in this little, peaceful and lovely town in Quebec, Ormstown, five years ago, my husband told me about Ormstown Fair.
Ormstown Fair happens every year, since 102 years ago.
I used to live in a big city in Mexico, over a million people, living and working there, so I can say, I was used to a city lifestyle. Big factories, big schools, highways, lots of cars and lots of people everywhere, but I still miss it, as everyday was really nice there.
So back to my story for this blog entry, Ormstown is a little town, life happens quiet and nice all the time here, and in these days, I must say I really like it.
But when it is time of Ormstown Fair, people gets excited about it, it lasts three days, but it begins with Thursday night Parade, and from Friday to Sunday, you can visit the Fair, and you will see from all kind of farm animals, which I must say, every time I visit the fair, I find myself amazed by the high quality of these animals.
As an animal lover, I must say, in this Fair, you will see only really nice animals from chicken, pigs, ducks, lambs, cows, horses.
In this Fair I had seen the most beautiful big horses, so well groomed, it is a joy to see this fair for any  animal lover.
In this fair there is also some fair games where children love to spend all day long.
But there is one place in this Fair that cached my attention since the first time I visited it, the Industrial Building.
Since the first year of the Fair, 102 years ago, people use to show all kind of products made by themselves, hand made jams, cakes, muffins, etc.
But there is also a section for Quilts, and I might say, since the beginning of this Fair, quilts had been an important section on it.
On the five years I had visited this fair, I have seen great quilts shown here, this year I saw really nice quilts here.
And this Quilt Show is a Juried show.
You can get your quilts in and you will get your work juried. Yes you guessed it, I got excited about it. So year after year, since I came here, I like to make some quilts thinking on this Quilts Show.
This year, I got five quilted items in:
Little houses lap quilt, hand quilted.
Four Blue and yellow wall quilt, hand quilted.
"I love To Quilt" tote bag
A little quilted bag
Baby Quilted Slippers
And I'm happy to tell you that I won three prizes!
1er prize "Love To Quilt" tote bag
4th prize – Little houses lap quilt, hand quilted.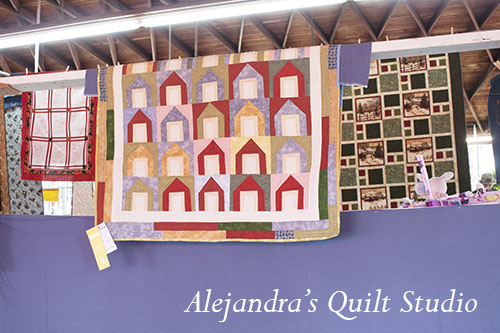 5th prize – Four blue and yellow wall quilt, hand quilted.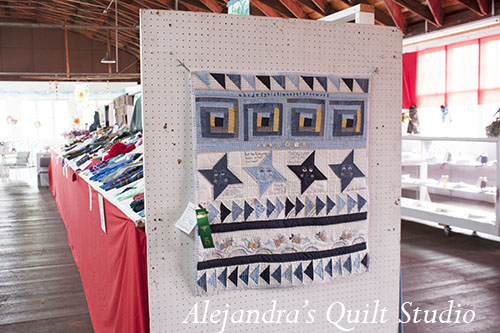 Well, what can I tell you, 'It feels amazing to see my work exhibited on a Quilts show, and more when I get there, and I see the prize ribbons on my quilts tags!'
It is a small Quilt show, but it feels so nice!
I also want to thank to all the people involved in Ormstown Fair, they work so well, they hand my quilts so well, they are so organized, it takes no time to deliver my quilts to them, and on Sunday at 4 pm, they have everything ready to be delivered back to each owners.
Ormstown Fair people makes me to feel I can trust on them to leave my quilts in this show, my quilts had been always treated so well, I never have any worries about to put my quilts on this show, I thank all the people on the quilts show.
Next year, if it happens you will be visiting Montreal, or New York, you might want to visit Ormstown Fair and visit this great Ormstown Fair. People here is very nice and they will welcome you here!
I thank you for stopping by and read my blog, now, it is time to start thinking on my next quilt I will be working on for Ormstown Fair 2017!
You can read more about:
Baby Quilted Slippers, full tutorial
Alejandra.