Making a Baby Quilt is always a nice project to work on, because of its size it's a quilt you can finish in a couple of days and it will always look nice.
As I'm currently working to make this baby quilt for my grand child that is due in Summer I thought it would be nice to share this quilting project with you.
I shared the first part to make this baby quilt on a previous post, you can read it here, so you can get the instructions to cut the fabric blocks and borders to make the top.
Another good reason to make a baby quilt is that you might have a friend who is a mother to be,and you might get invited to a baby shower too.
Puedes leer mi blog de patchwork en espanol en Ale Cose y Cose.com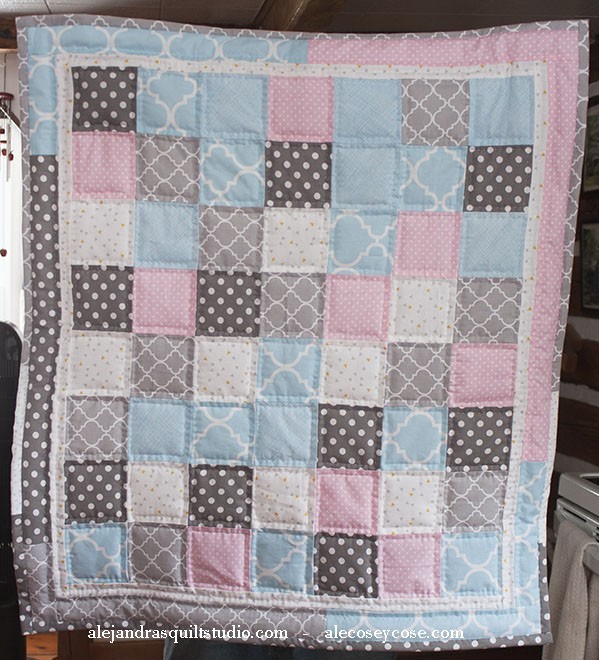 A baby quilt is always the best gift to make for a baby shower.
There's so many good reason for this:
It's easy to make and to quilt, whether you quilt it by machine or by hand, it won't take long to finish it.
It always looks beautiful.
it's always easy to use, fold and carry in any bag.
it's always helpful to cover a baby or to set it on the floor so the baby can sit on it and play.
It's unique, it doesn't matter if you follow a pattern, making a quilt where you can add your personal touch.
it's easy to wash and to keep.
it will give you nice memories of your baby.
I made a video to show you how to finish it (in Spanish) I will work on it to get English subtitles, I will change the video here as soon as I get the English subtitles.
Steps to finish the baby quilt.
On the previous post I told you how to make the top of the quilt and how to make the sandwich for the quilting.
1. You can work on the quilting, I did it by hand but if you want to make it by machine, I'm sure you'll go a great job on it.
I did a simple hand quilting 1/4″ along the seams of each block, and I did some quilting on the borders.
2. Once you finished the quilting, you can trim out the batting fabric with the help of a pair of scissors.
3. With the help of your ruler, trim out the fabric for the back 1 1/4″ all along the baby quilt.
4. Fold up the fabric for the back as it was a bias, and sew it on the top of the quilt.
The baby quilt is finished now, this time I want to show you how the back looks like.
You can use a fabric for the back or do as I did, I got 4 more fat quarters for the back, I sew them together to make a fabric a little bigger than the top, I will do some applique on the white fabric and I will share the Part 3 as soon as I finish it.
If you have any questions about this baby quilt, leave a comment below and I'll reply to you.
You can follow me on Facebook, Instagram, Pinterest and YouTube.
I thank you for making the time to stop to read my blog.