How To Make A Gift Bag For Christmas is a tutorial to make a Patchwork bag made by you to deliver a Christmas present and it can be used as a "green Bag" all year round.
Our beautiful planet is in need for our help and as a quilter, we can do our part, quilters know how to sew and how to make pretty useful things!
How To Make A Gift Bag For Christmas
Making a bag to deliver a Christmas present that can be used many times during the year, it's like giving two presents in one.
No more wrapping presents in paper that is only used once and then it's never used again, a well-made bag by you, it's going to be well-made to help anyone to carry the groceries or anything you need to bring back home after you visit any store.
The idea to share this tutorial with you, it's to give you the steps to follow to make a green bag, it can be for Christmas and it can be for any other occasion, a birthday, an anniversary or a meeting with your good friends.
You can make this bag using some Christmas fabric or you can use any other type of fabric.
You can use the same measures I share on this tutorial or you can come up with different measures, just follow the steps on the tutorial.
If you need to make a bigger bag, you can use your own measures to make it and it can be used as a laundry bag later.
For more ideas to make this Christmas: Christmas Quilts
Materials to Make the bag for Christmas.
2 pieces of fabric of 12 x 14 "
2 pieces of fabric of 2 x 4 "
2 pieces of fabric of 12 x 2 1/2″
2 pieces of ribbon, shoe cords.
1 block made with paper piecing or any small block made with patchwork or applique.
You can find here a list of the Quilting Tools I use every day to make the quilting and patchwork projects I share on this blog
Video
Tutorial To Make the Bag For Christmas.
1. On the tutorial, I'm using a small block made with Paper Piecing, you can use the same block or any other block that you already have made.
Cut all the pieces of fabric for the bag.
2. Add four borders to the block of 1 3/4″ wide, Press
3. Fold the borders to the back to be 1/2″, applique the block on the right side of one of the pieces of the bag. You can do the applique with you're sewing machine.
4. Take the two pieces of fabric of 12 x 2 1/2″ and make a fold on each edges of each strip and run you're sewing machine to sew. Press each piece folded in half.
5. Take the two pieces of fabric of 2 x 4 " and make a 1/4″ fold on each side of each piece and fold each piece to the middle, run you're sewing machine to sew all along on both pieces.
6. Lay the other part of the bag over the piece where you appliqued the block on it, good side to good side, make a fold on both side on one of the pieces 2 inches from the bottom or mark these two points with a pencil, place one strip you made in an earlier step folded on each side, pinch a pin on each side, pinch a few more pins to hold the two pieces together while you sew the bag.
7. Run the sewing machine on three of the sides of the bag, the two sides and the bottom. Run again you're sewing machine on the same three sides of the bag, but this time use the zigzag stitch feature. Turn out the bag and press.
8. Place one of the two pieces on each side of the bag opening, pinch three pins and run you're sewing machine, then run the sewing machine again, but this time with the zigzag stitch feature.
9. Open the two pieces on the bag opening and press the seam, run you're sewing machine to 1/4″. This step will keep the seam flat. You can also read this article to know how to finish a seam.
10. Put the two strings on the two pieces on the bag opening, one string should go from one side and the second string should go on the other side.
11. Pull each string and get it on the piece on the bottom of the bag, make a knot on the string, do the same step on both strings.
12. Sew a button on the top of the Christmas tree in case you made the bag with the Christmas tree paper piecing pattern.
Congratulations your Bag For Christmas is finished and it looks fantastic!
I'm so happy you decided to join to the change and this Christmas you'll be delivering your presents in a "green bag" made by you!
Little by little you and me will make the change!
I'm so happy to be able to share with you something I love to make, the patchwork, quilting, embroidery and sewing, this way I hope to help you to make more things for yourself, for your family and in some cases if you decide to make something to sell, go ahead!
All you need it's to find pretty fabrics to make many bags like this one!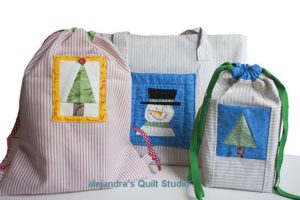 To make different types of fabric bags to be reused all the time, you need to use the same steps on this tutorial but in a different size (measures) or you might find another tutorial here on my blog or on another blog!
I'm sharing another photo where you can see a few different Christmas bags I made before making the bag for this tutorial, I wanted to try some different ways to make a bag that would be easy for you to make. You can get the inspiration to make more bags.
---
Pudes leer esta tutorial en español en el blog de Ale Cose y Cose
---
Don't forget to follow me on Social Media, the buttons are on the right top corner of the blog, just a click and you can follow me on Facebook, Instagram and Pinterest.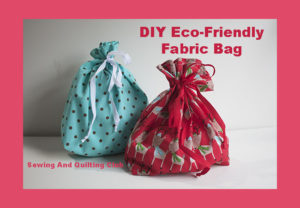 More Quilting and Sewing Ideas to make for the Holidays:
If you enjoyed this post, give my Pin a Share!