The Holidays will be here soon and you might be looking for some ideas to decorate your home for the season, Christmas Quilts Tutorials will help you always to add the cozy touch to every room.
Stitch by stitch you'll make a good collection of quilts, small and big to display in your home during the Holidays. You don't need to make them all in a couple of months.
I've been making quilts for a few years now and today I have a small collection of different quilted items for the season made by me.
Today I'm sharing some of the quilts I still own as many of the quilts I've made I've given away to my children, family members or friends.
Christmas Quilts Tutorials And Patterns You Can Find In My Blog
---
Step by step to make this cute pillowcase with a snowman, quilted by hand or by machine will be the favorite of everybody!
So easy to make, this pillow case is so cute and it can be use as a pillowcase or to put in the pajama!
Everyone will love to have their own, you can make it on the traditional Christmas color or with the country colors like I did.
Making it with applique and hand quilting will add that cozy touch you want to add to any room in your home
---
---
A short tutorial to make a quilted star mug rug

---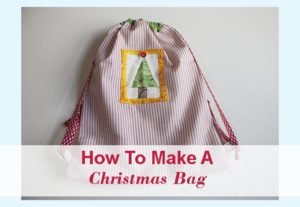 Everyone will love to get two gifts in one, help the planet making a eco-friendly bag to give Christmas gifts this year.
This is an easy tutorial step by step where I share how to make this cute drawstring bag for Christmas.
Everybody will use it to carry all the things day after day, this is a great way to help save the planet.
Follow the same steps and pick any other Paper Piecing Pattern to make it and you can put inside a gift for any other time of the year
---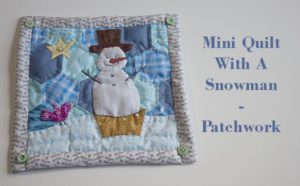 Make this mini quilt with an appliqued snowman, the base is made with hexagons and it's hand quilted.

While working with hexies is the favorite technique for many quilters to make the background of this quilt, you can use all those little hexies that were left after you finished that quilt, they will add that cuteness touch to this mini quilt.
Mini quilts always help you to add that handmade touch to your home.
---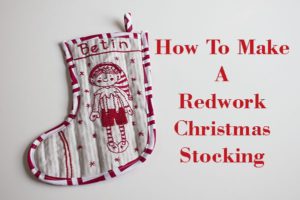 Make the Redwork Christmas Stocking medium size with the free pattern and the tutorial, you'll find a pattern to make the boy and the girl as well.
You will need to work with the basic easy Embroidery stitches: back stitch, satin stitch, Daisy or chain stitch.
On this post you can find a FREE Embroidery Pattern to make a Christmas Stocking for a boy and for a girl.
The embroidery is made with DMC embroidery floss
---
I'm sure you'll love to make the rustic look mini quilt with an easy to make Christmas Tree, made with squares and triangles, this quilt will be ready to hand in any corner of your home in no time!
Nothing is easier to make than a quilt made with squares and triangles, with a few different fabrics in white, green and brown, you can make this cute mini quilt with a Christmas tree.
Whether you quilt it by hand or with your sewing machine, it will be your favorite to display on any wall in your home during the Holidays.
---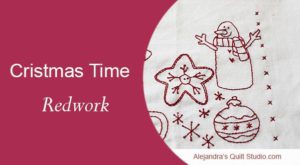 Christmas Redwork will always help you to add the touch to anything you want to display in your house during the Holidays, from a kitchen towel to a pillow, easy to make and it will take you just a few minutes to work on the Redwork Embroidery. FREE pattern to download.
You can make this Redwork embroidery all together or you can make each one image on each sewing project.
Add the embroidery touch to any sewing project you're making for the Holidays.
---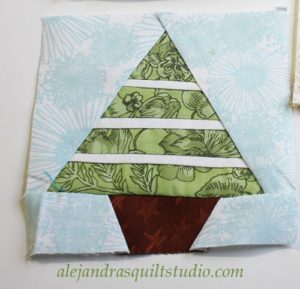 It's always fun to use the Paper Piecing technique to make a Christmas tree block 5 x 5, you can make later many things with this block, a mini quilt, a pot holder or it could be part of a bigger quilt for the Holidays.
If you're a beginner quilter and you want to give it a try to this patchwork technique, this Christmas tree is the one you want to make.
Follow the numbers on the pattern and just change the color of the fabric and before you notice you'll have it done!
Make one, two or as many as you want to make a one block mini quilt or make a few of them to make a bigger quilt.
I'm sure you'll love to work with the Paper Piecing technique as much as I do.
---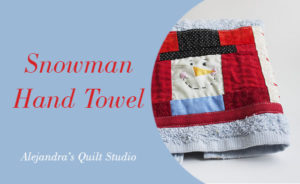 You can decorate a hand towel with any small block you make with Paper Piecing, applique or patchwork, sharing the idea so you can make as many hand towels as you want to decorate your home or maybe to give them as a gift.
It won't take you long to make this hand towel and it will be the favorite of everyone!
Nothing better to bring as a small gift to your friend when you get invited for a cup of coffee.
---
No Patterns or Tutorials on the blog for the following Christmas Quilts, but you can get inspired to make one similar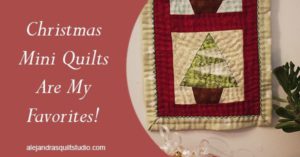 Making a Christmas quilt is always easy and fun, with three paper piecing pattern of 5 x 5 inches and some borders, you can make this mini quilt in one day of sewing (maybe two days)
This post is not a tutorial, but I think it will give you the idea to make three patchwork blocks to make a mini quilt to hang on any wall in your house to add the cozy touch during the Holidays.
You can make it hand quilted or you can make the quilting by machine, both ways it will look fantastic!
---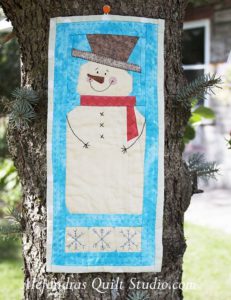 I made this quilt a few years ago, but I never made a pattern to make it again, think I might make it soon!
It's not a big quilt, but it has become one of my favorite mini quilts to display during the Holidays.
Nothing better to welcome everyone to your house than a smiling Snowman mini quilt.
When I did this mini quilt I didn't made an extra pattern to save and to share, but I think it must be on my To Do List for next year!
I know, everyone will love to get the Pattern to make it!
I love snowmen quilts!
---
What is a Christmas Quilt?
A Christmas Quilts is a quilt made with the colors of Christmas and the Holidays and it can be also made using patterns with Christmas symbols.
What Pattern Can Be Used To Make A Christmas Quilt?
Any pattern and technique can be used to make a Christmas quilt, the most used themes and simbols are:
Christmas tree
Wreaths
Candles
Christmas tree ornaments
Santa Clause
Elves
Gifts
Snowman
Stars
What Supplies Are Needed To Make A Christmas Quilt?
You will need the same supplies you use to make any other quilt.
Sewing machine
A good pair of scissors
Assorted cotton fabrics
Rotary cutter
Cutting Mat
Patchwork and Quilting rulers
Quilting thread
Embroidery thread
Patterns
Pins
Safety pins
How Big Is A Christmas Quilt
A Christmas Quilt can be as big or small as you want to make it.
Mini Quilts
Mug Rug
Quilt Wall Hanging
Pillows
Pillows cases
Table runner
Crib size
Lap quilt
Twin size
Full size
Queen size
King size
How To Make A Christmas Quilt
Christmas quilts are made with different patchwork and quilting techniques, you need to find a quilt you want to make and find the instructions and the pattern to make it.
Follow the instructions as the designer of the quilt suggest.
How Many Christmas Quilts You Will Find On My Blog?
I love to make at least one new Christmas quilt every year, from mini quilt to a bigger quilt, not all the years are the same and sometimes I just have time to make a small quilt.
You will find on this page a list of Christmas quilts I have today, but as I make more I'll be adding them to this list, hope you find one design you like and you want to make, some have a FREE pattern and some you'll find them at my store.
Read which scissors are my favorite and why here!
Enjoyed this list of Christmas Quilts to make? Give my Pin a share!