MY QUILTS
Welcome to "My Quilts" pages.
I have been quilting for some time (years), as a quilt is not made in one day, it can take me a few weeks, months and even years to finish one, when we talk about big quilts, small and mini quilts can take less time to finish.
As I write this blog to share with you my work as a quilter, I think you would like to see some of my work.
As I started to make quilts before the time of the internet, I didn't keep photographs of my previous work, since I write a blog about my quilts and I should say this is not my first blog about my work as a quilter.
I have learn a little bit more about blogging and about how to run an online business on the internet, but I understand you might want to find some projects to make for free, and I love to share my work with you, some of my patterns are for free so you can make them too, and some will be for sale as I also need to pay some bills every month.
I hope you enjoy this page where you can see some of my latest work, if you have any question about it, you can send me a message on the contact form or on my Facebook page Alejandra's Quilt Page.
---
Bags, Tote Bags and Pouches
How to make a pouch with hexies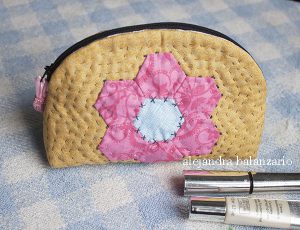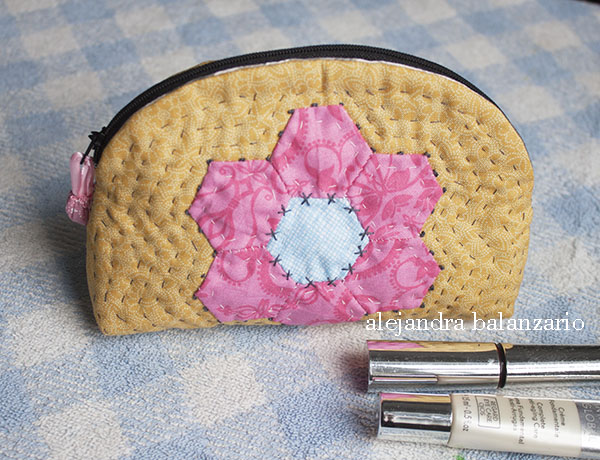 You can read the post to learn how to make the hexies flowers here.
P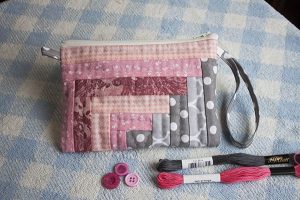 Patchwork bag with squares, tutorial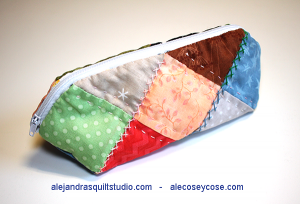 …
---
Quilts
Journal Quilt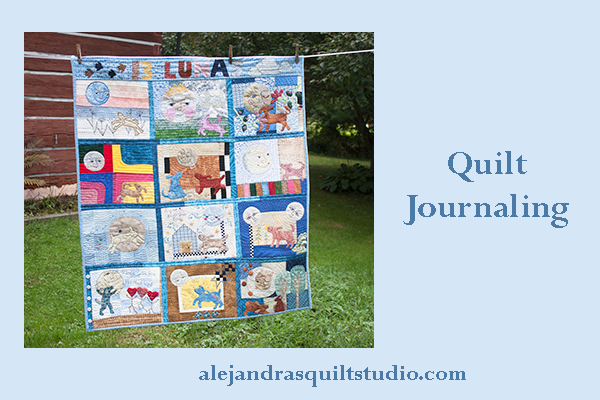 I began to work this journal quilt a few years ago, it was an UFO for a few years, in 2017 I started to work again on it, now it's a finished quilt and belongs to my private collection.
To read more about it you can go here .
Blue King Size Quilt.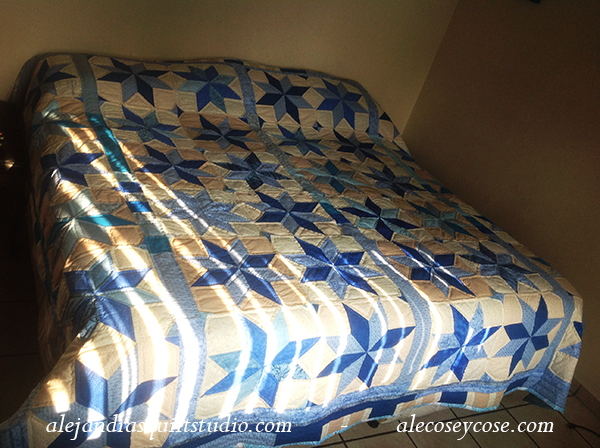 I really enjoy working on this quilt, it didn't take long to finis it, I gave it to my oldest son and her wife as a present. You can read more about it here, 
A Quilt is a new way to say "I love you"
Maverick Stars Quilt
Hand quilting is almost finished, I'm working now on the bias.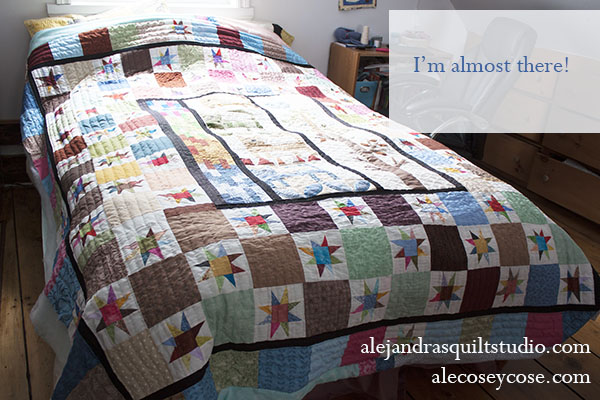 Nine Patch  and Log Cabin quilt.
I made this quilt for my grandson, he loves color blue,  hand quilted, made on 2016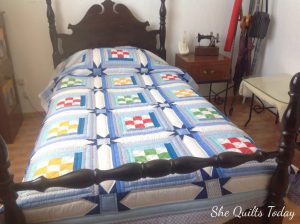 ---
Art Quilts
Small Quilt "Reunion" Summer 2019
---
Paper Piecing Quilt
Each block is 5 x 5 inches, every block is different, you can find some free blocks pattern to make on the blog.

Mermaid Quilts
This is a small quilt, it is made with four log cabin blocks, four stars and six mermaids, hand quilted with embroidery.

Houses Quilt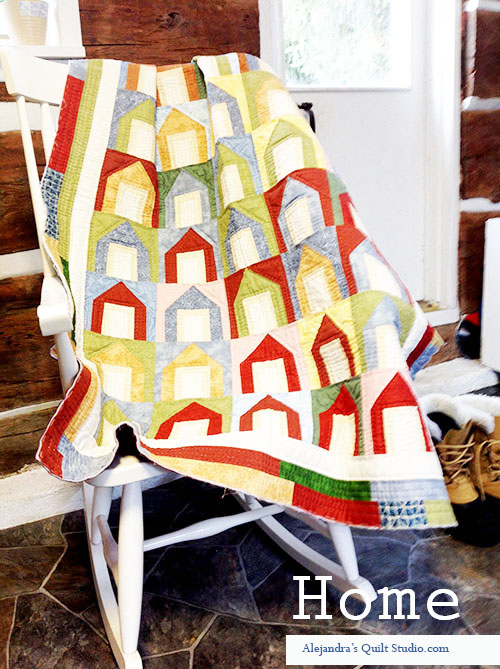 ---
Stars Quilt
A small quilt made with stars blocks.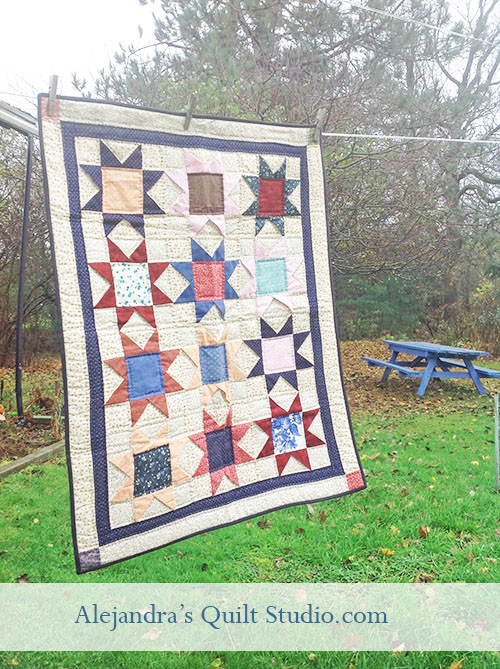 ---
Mini Quilt with four tulips
This mini quilt was made with patchwork background with four tulips applique, hand quilted with some embroidery.
---
Christmas Quilts and Mini Quilts.
Christmas mini.
This Christmas quilt was made with six different block patterns, hand quilted.
---
Embroidery
"Bless this house" embroidery.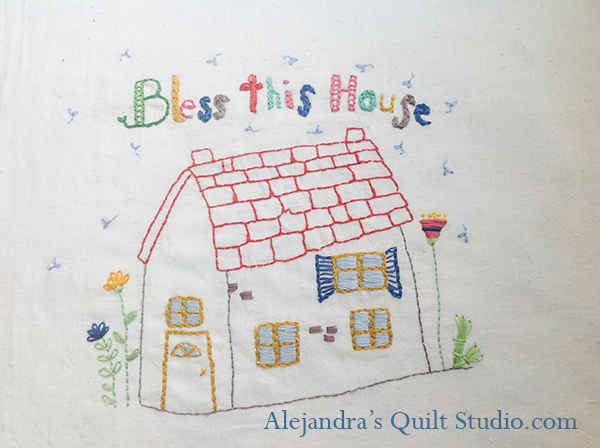 "Home Sweet Home"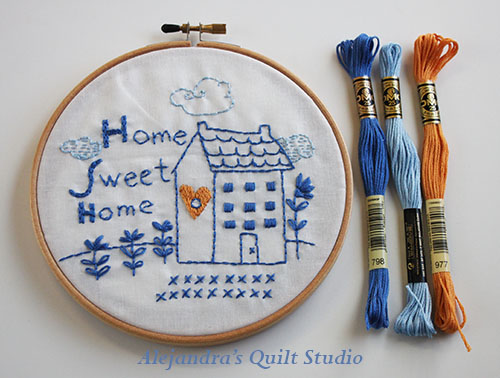 ---
Small Patchwork and Quilted Projects To make
How to decorate a hands towel – Paper piecing pattern.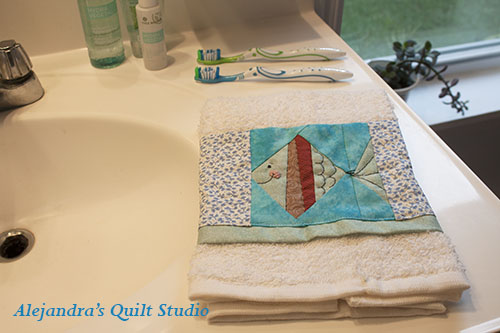 I thank you for making the time to visit my gallery of quilts, as I keep working on new quilts, please visit back soon, I'm sure I will have new pictures to share with you.
If you like my work I thank you for sharing it, and if you have a friend who likes to make quilts and embroideries, let her know about my website, I thank you for sharing it!.
Alejandra.
…..