I have been quilting for some time (years), as a quilt is not made in one day, it can take me a few weeks, months and even years to finish one, when we talk about big quilts, small and mini quilts can take less time to finish.
As I write this blog to share with you my work as a quilter, I think you would like to see some of my work.
As I started to make quilts before the time of the internet, I didn't keep photographs of my previous work, since I write a blog about my quilts and I should say this is not my first blog about my work as a quilter.
I have learn a little bit more about blogging and about how to run an online business on the internet, but I understand you might want to find some projects to make for free, and I love to share my work with you, some of my patterns are for free so you can make them too, and some will be for sale as I also need to pay some bills every month.
You can find more information about the different quilting and patchwork tutorials on the Home Page.
I hope you enjoy this page where you can see some of my latest work, if you have any question about it, you can send me a message on the contact form or on my Facebook page Alejandra's Quilt Page.
---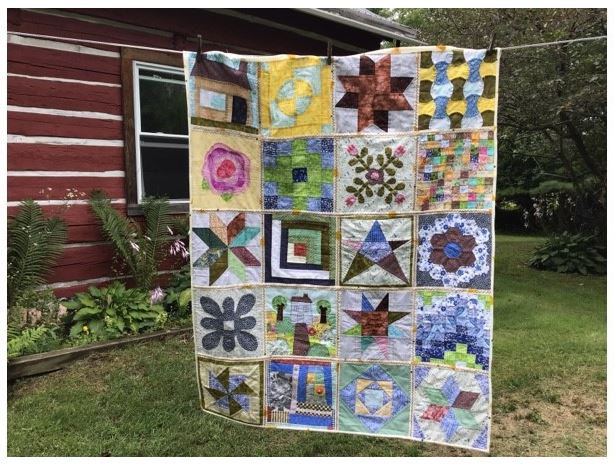 Sampler Quilt 2021
The Sampler Quilt 2021 is made of 20 Quilt Blocks made with different patchwork, applique and paper piecing patterns, for beginners. This quilt was made with the Quilt As You Go technique.
All the patterns and tutorials to make the Sampler Quilt 2021 are on the blog.
Sampler Quilt 2022
The Sampler Quilt 2022 is a current quilt project I'm working on, and it will be made with 8.5 x 8.5 inches quilt blocks, most of them will be made with Paper Piecing Pattern, some blocks will be made with a different sewing or applique technique.
I hope you join the fun to make one or the two Sampler Quilts, making one is a great way to learn more about how to make a Quilt with different quilting methods.
---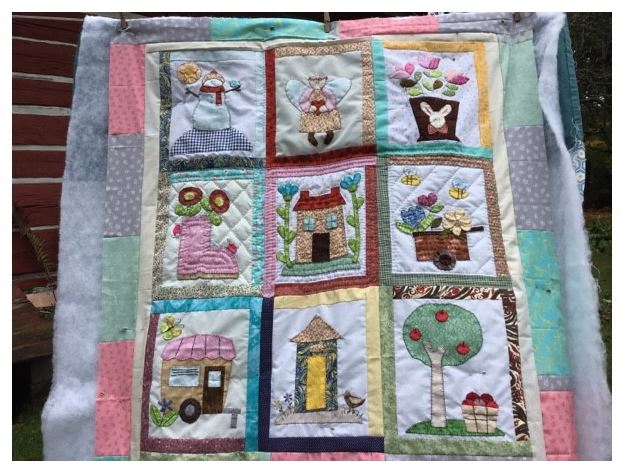 Making a quilt block every month, it's an easy and fun way to make a quilt. You can find the 12 tutorials and the free patterns to make this quilt with applique.
---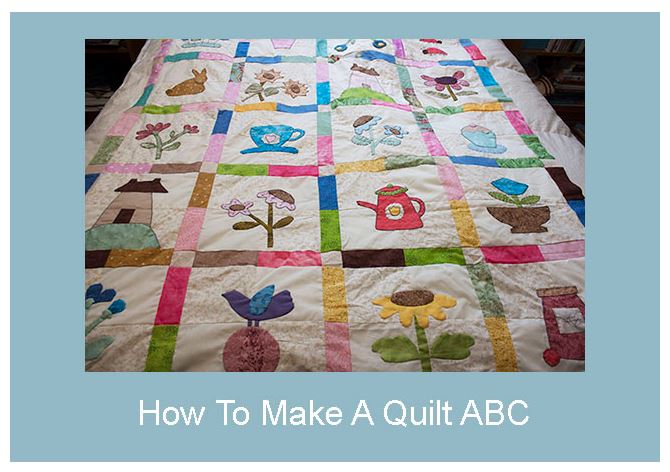 I made this quilt for my grand-daughter, this quilt was made with applique and hand quilting.
---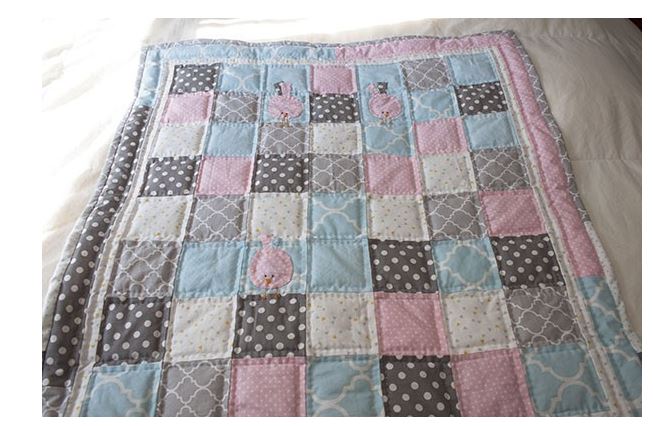 If you're looking for an easy baby quilt to make, to welcome a new baby to the family, or to make it as a gift to a friend's new baby, you can find the tutorials to make this pretty baby quilt on the link on the title.
---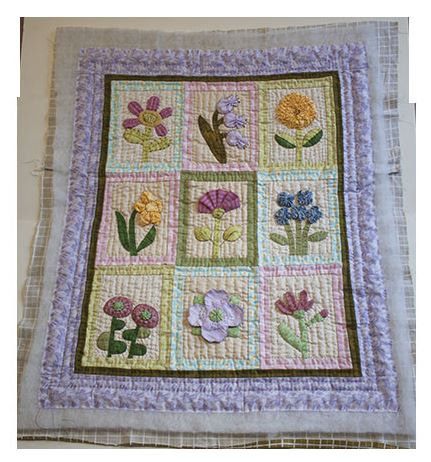 Learn how to make 9 Floral Quilt Blocks, with a different 9 sewing, applique and patchwork techniques.
---
Making a baby quilt with 12 different animals with the applique technique, is a easy to make a cute baby quilt, to welcome a new baby in the family, or to give it as a gift to your best friend's new baby.
---
If you love to make applique quilt, then you might want to make the Baltimore Mini Quilt.
---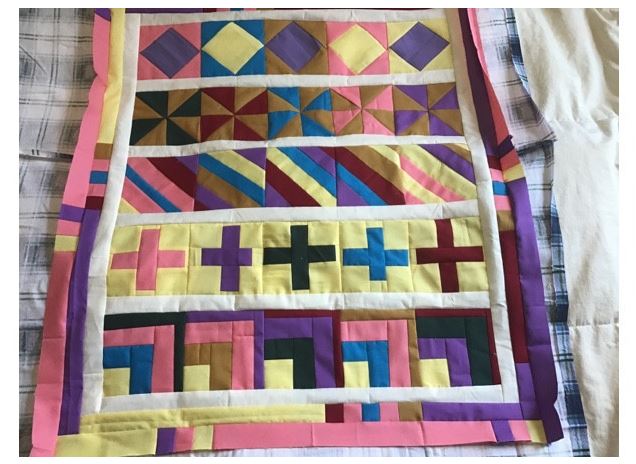 Making a small quilt with only 5 Quilt blocks pattern, is an easy way to make one!
---
As a mom and as a grand-mother, I'm always making something for them, whether is a small project like a tote bag or a lap quilt, or if they want me to make a new quilt for them.
Patchwork and quilting projects for children, are fun tu make and it's another way to tel them know, how much you love them.
Whether you're looking to make a new quilt or a small project for your children, or to make it to give it as a gift for a good friend's children, or to welcome a new baby in the family, Patchwork and quilting will help you to make a unique and beautiful gift to give.
---
Quilts
Journal Quilt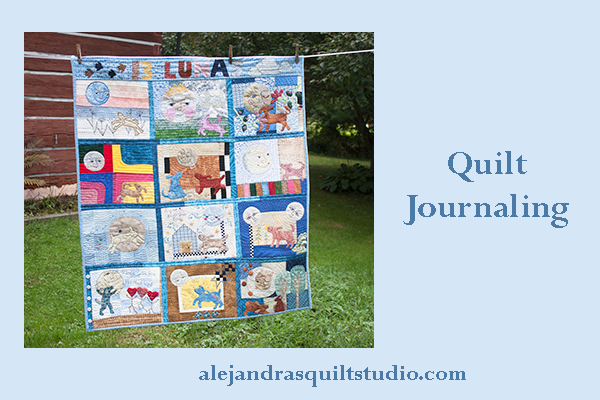 I began to work this journal quilt a few years ago, it was an UFO for a few years, in 2017 I started to work again on it, now it's a finished quilt and belongs to my private collection.
To read more about it you can go here .
---
Blue King Size Quilt.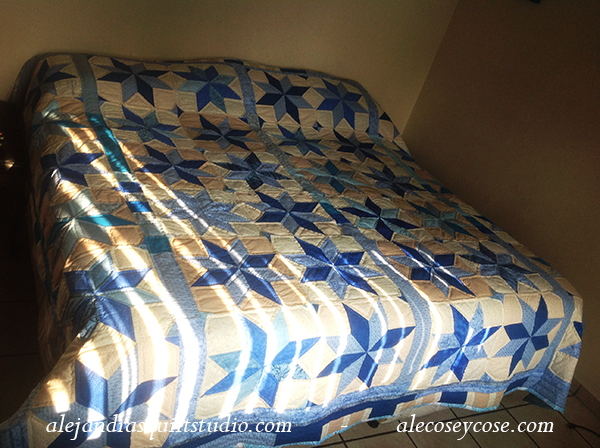 I really enjoy working on this quilt, it didn't take long to finis it, I gave it to my oldest son and her wife as a present. You can read more about it here, 
A Quilt is a new way to say "I love you"
---
Maverick Stars Quilt
Hand quilting is almost finished, I'm working now on the bias.
---
Nine Patch  and Log Cabin quilt.
I made this quilt for my grandson, he loves color blue,  hand quilted, made on 2016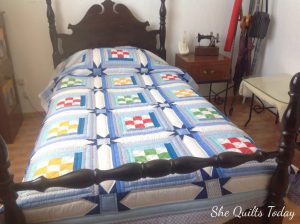 ---
Art Quilts
Small Quilt "Reunion" Summer 2019
---
Paper Piecing Quilt
Each block is 5 x 5 inches, every block is different, you can find some free blocks pattern to make on the blog.

---
Mermaid Quilts
This is a small quilt, it is made with four log cabin blocks, four stars and six mermaids, hand quilted with embroidery.

---
Houses Quilt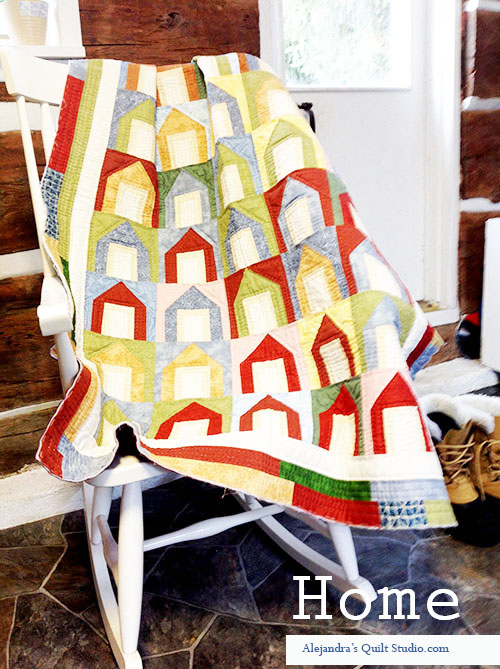 ---
Stars Quilt
A small quilt made with stars blocks.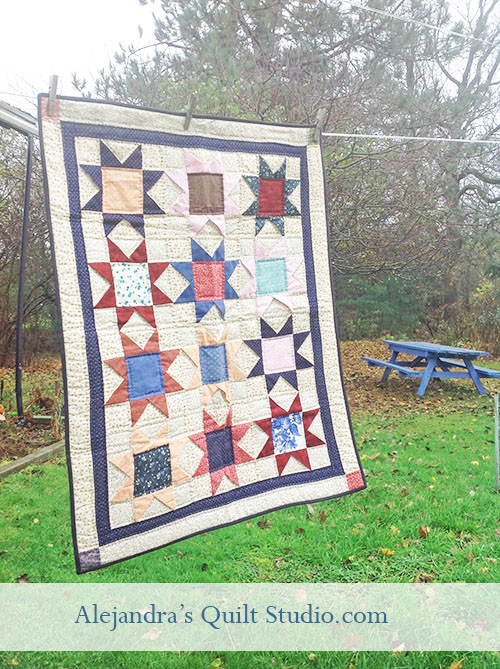 ---
Mini Quilt with four tulips
This mini quilt was made with patchwork background with four tulips applique, hand quilted with some embroidery.
---
Christmas Quilts and Mini Quilts.
Christmas mini.
This Christmas quilt was made with six different block patterns, hand quilted.
---
Embroidery
"Bless this house" embroidery.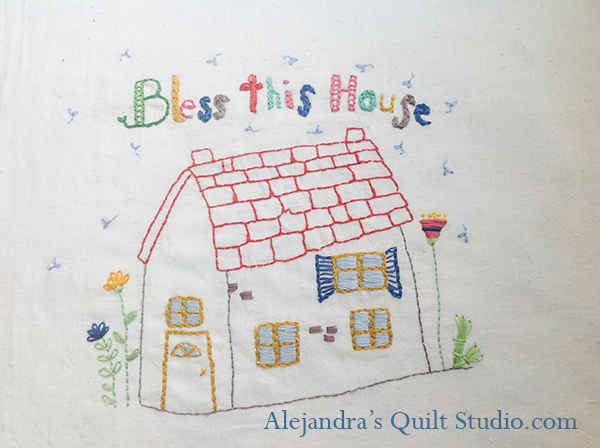 ---
"Home Sweet Home"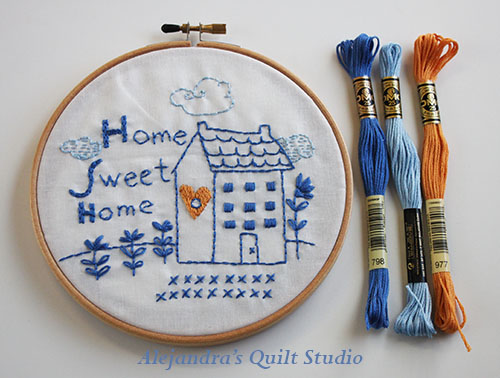 ---
Small Patchwork and Quilted Projects To make
How to decorate a hands towel – Paper piecing pattern.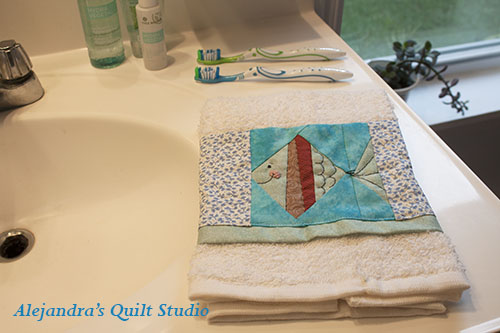 I thank you for making the time to visit my gallery of quilts, as I keep working on new quilts, please visit back soon, I'm sure I will have new pictures to share with you.
If you like my work I thank you for sharing it, and if you have a friend who likes to make quilts and embroideries, let her know about my website, I thank you for sharing it!.
Alejandra.
…..