Sampler Quilt Patterns to make a project with traditional and modern patchwork blocks, beginners and advanced quilters will love to make.
What Is A Sampler Quilt?
It's a quilting project made with a number of blocks with different patchwork techniques, none of them will be repeated in its layout.
Sampler Quilt Patterns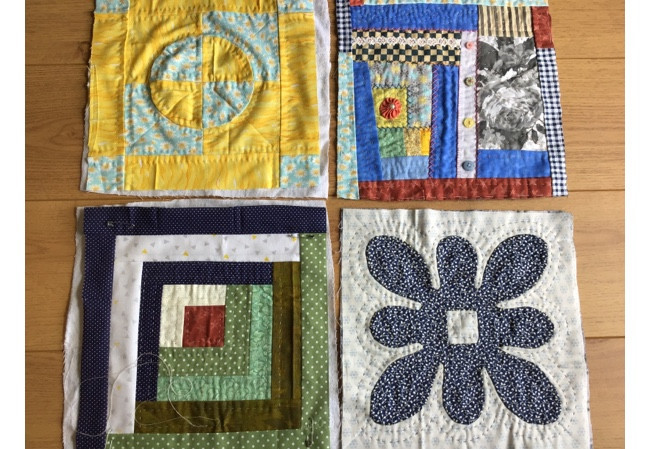 As I'm starting to work on this new quilting project, I hope you join the fun to make one or two new blocks each week.
I'll be posting a new block pattern to work during the week, so you will have enough time to do the piecing and the quilting of each block, as this project will be made with the Quilt As You Go Technique.
The Quilt layout will be of 20 blocks, 4 x 5 and each block is 10 x 10 inches, so this quilt will be a lap quilt.
In case you want to make it bigger, all you need to do is to keep making more blocks or make each block bigger.
How To Make The Sampler Quilt
I will give you a new 10 x 10 inches block pattern to make every week.
I'll be working on the quilting as a Summer Quilt, by this means, I will be doing the quilting without a battin fabric and with a flannel as a back fabric on each block.
At home, you can make the quilting sandwich with the three layers of fabric: the block top, batting fabric and the fabric for the back.
Most of my blocks for this project will be hand quilting and some of them will be made also with some embroidery on them, at home, you can do the quilting with your sewing machine, I'm sure your quilt will also be pretty, as the main purpose of making a quilt, is to be made with each quilter touch.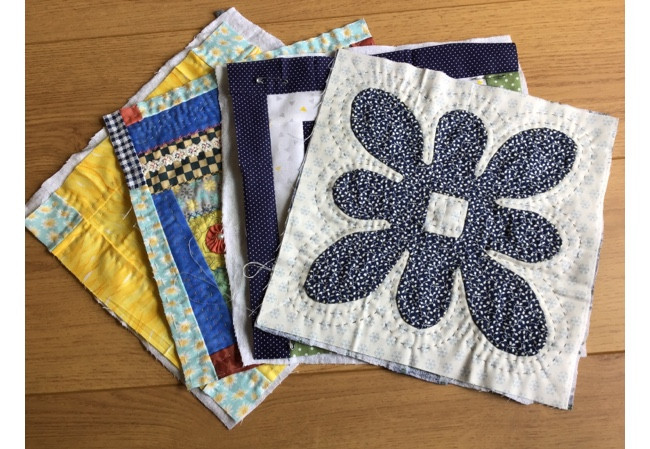 How To Start Making The Sampler Quilt?
This week I will give you the list of 4 blocks to make: Crazy Quilt, Log Cabin, Drunkards Path, and the Hawaiian Quilt Pattern.
This week, you get these four patterns as these patterns are already on the blog as a tutorial.
All you need is to make each pattern on a 10 x 10 block, I will give you the instructions to follow to make of each pattern on the block size for this quilt.
You can read the tutorial and follow the same steps to make this bloc, just cut fabric for your block 10 x 10 inches, and if you will be working with the batting fabric, cut it the same size.
When you make this block, you can cut the fabric one inch bigger, so this way you can have some room to trim it out to the right size when it is finished.
As Log Cabin is a traditional block most quilters know well how to make it, I add it to this post, all you need is to follow the instructions to make this block starting from the center and stitch on the strips of fabric on the four sides.
Center – 1 piece of 2 x 2 inches
Strips – Cut the strips of fabric of 1 3/4 inches wide x the length of each strip as you stitch each strip. when you finish the block it might be a little bit bigger than 10 x 10, trim the four sides.
Download and print the patterns to make this block here, follow the instructions to make the central piece of the block on the tutorial, then you will need to add the four borders
Cut 4 strips of 2 x 7 1/4 inches
Cut 4 squares of 2 x 2 inches
You can find the full tutorial to make your own Hawaiian Quilt block pattern and the instructions to hand applique and quilt this block here.
On the tutorial you will find all the instructions to make a 10 x 10 block.
As this week you will get four blocks to make, you can pace your work and work on them on your own pace, some weeks we'll be working on just one block and then you will have more time to catch up with these four blocks.
Download here the Sampler Quilt Guide and Layout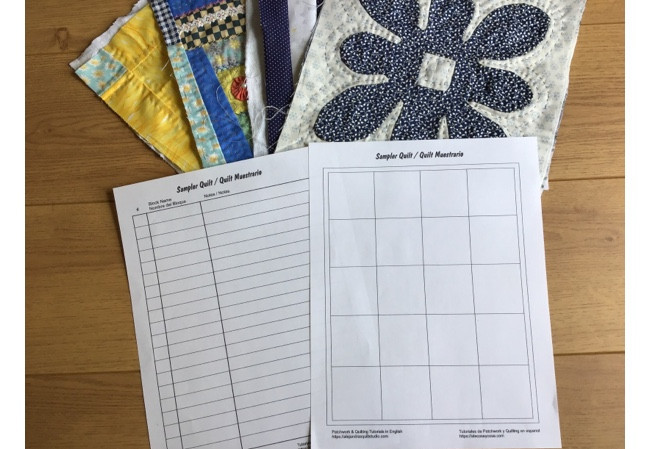 I hope you like the idea to make a Sampler Quilt along with me, I'm sure we all have fun as we work on this quilt, and the best of it, as this quilt will be made with the Quilt As You Go technique, as we keep working on it, it will be finished at the end and it won't become an UFO (Unfinished Object)
If you're enjoying the fun, write a "Yes, count me in" in a comment, so I can welcome you to the fun!
If you love to hand quilting your quilts, you can read 4 Hand Quilting Threads
Don't forget to follow me on Social Media
---
Puedes leer este mismo tutorial de Patchwork para hacer la Quilt Muestrario en espanol aqui.
---
Thanks so much for sharing my blog on your Social Media!
–
Watch the video here!